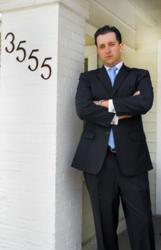 "At the moment, third strikers make up a quarter of our prison population. We're paying a fortune to needlessly incarcerate nonviolent offenders for decades when we should be focusing on repairing our ailing economy. This needs to change."
Los Angeles, CA (PRWEB) March 14, 2012
California's controversial three strikes law, which punishes certain third-time felony offenders with a mandatory 25-year to life sentence, costs taxpayers billions in unnecessary expenses every year, says San Diego criminal attorney David P. Shapiro. A new article on Shapiro's website reveals that reforming the third strike law to apply to only violent or serious felonies would cut prison costs by $7.5 billion.
"The average prison sentence in California is nine years longer than in any other state," says Shapiro. "At the moment, third strikers make up a quarter of our prison population. We're paying a fortune to needlessly incarcerate nonviolent offenders for decades when we should be focusing on repairing our ailing economy. This needs to change."
Enacted in 1994, the three strikes law institutes a mandatory minimum sentence of 25 years to life for any felony conviction by a person who has already previously been convicted of two violent or serious felonies. This unflinching approach to incarceration translates to lengthy prison terms for trivial crimes. These nonviolent crimes account for more than half of the total cost of the three strikes law.
"There are inmates serving 27 years for stealing a spare tire," Shapiro says, referring to the case of Rene Landa. "That's an enormous burden to put on the taxpayers' shoulders, especially when you consider that California is over $300 billion in debt already. Reforming the law to be more lenient on nonviolent offenders is in everyone's best interests."
Shapiro asks that residents of the Golden State support the Three Strikes Reform Act of 2012. This proposed ballot initiative would limit the applicability of a third strike to violent and serious offenses only. By excluding nonviolent offenders from harsh mandatory sentences, the state would save billions in food and housing expenses while continuing to keep dangerous criminals off the streets.
Advocating legislative reform is nothing new for Shapiro, who was recognized by several international journals for his campaign for inmate rights in post-Katrina New Orleans. He has successfully represented hundreds of clients across California in a variety of DUI and criminal cases. The Law Offices of David P. Shapiro are located at 3555 Fourth Avenue, San Diego, CA 92103 and can be reached at (619) 295-3555.
For more information, or to schedule an interview with David P. Shapiro, please contact him at (619) 295-3555 or email David(at)DPShapiro(dot)com