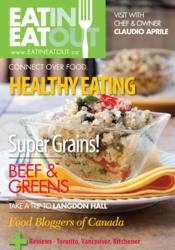 EatInEatOut is truly a unique place to find feature stories, sponsored by leading packaged goods brands, along side articles highlighting some of the best food bloggers in Canada.
(PRWEB) March 20, 2012
On one flank of the front line it's a battle to reach moms. Packaged goods brands are constantly looking for ways to reach out, engage and connect with this powerful group of consumers. Moms ages 25-54 have a big impact on sales of groceries and are using social media frequently. In fact, households with children under 18 are responsible for half of all purchases of cereal, juice, fresh meat and prepared foods according to a recent study.
On the other flank are food bloggers. Food bloggers have quickly become a formidable way to reach out and engage the powerful 'mom' group. They blog because they love food, expressing themselves through recipes, photography and writing. They are often part of this group themselves, so peer-to-peer, their opinions are trusted and valued. Most make no money from their blogs and in fact consider themselves 'food journalists' with impartial opinions unencumbered by the paid support of branded products.
That's where Eat In Eat Out (EIEO) http://www.eatineatout.ca comes in. This unique online magazine (http://ow.ly/9AuZx) offers a safe, happy place where both sides can join together. It offers consumers a truly unique home to find feature stories, sponsored by leading packaged goods brands, alongside articles featuring some of the leading food bloggers in Canada.
"EatInEatOut offers us very good exposure for our emerging Cookin' Greens brand of flash frozen dark-leafy greens; strategically directed at our more 'tech-savvy' consumer, engaging them through a very on-trend portal. We are a company driven by innovation and EIEO is well aligned with us and certainly understands how to get our message out," says Toby Davidson, President The Toby Brand (http://www.cookingreens.com).
Canada's new food-focused digital magazine – EIEO - has recreated the comfortable editorial format found in most print magazines, while adding the interactive and engaging experience of embedded links, audio, videos, recipe searchability, archived back issues and contests. From chef and home economist-tested seasonal recipes to trustworthy restaurant reviews and chef interviews, EIEO is for anyone who craves reliable, engaging content, and loves to cook at home or dine out.
The Spring, Healthy Eating issue (http://ow.ly/9AuZx), features recipes from celebrity authors Mairlyn Smith and Maria Speck alongside interviews with Canadian chefs Claudio Aprile, Dale MacKay and Jonathan Gushue.
EIEO is published quarterly with fresh, tasty content added regularly to whet your appetite for food news that will have you coming back for seconds.
For more information or to interview please contact: Lori Kennedy at lori(at)avaloncc(dot)ca