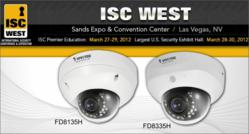 San Jose, CA (PRWEB) March 20, 2012
VIVOTEK has announced the launch of the FD8135H and FD8335H, two of its first megapixel fixed dome network cameras with Wide Dynamic Range (WDR) technology. Both models will be on live demo at ISC West 2012, where they make their first appearances. VIVOTEK's booth number is 26037.
Not only do VIVOTEK FD8135H and FD8335H both boast 1-Megapixel with 720p viewing resolution up to 30 frames per second (fps), they come with an HD WDR CMOS sensor to cope with challenging lighting conditions. The WDR feature allows the camera to capture both the dark and bright parts of an image and combines the differences to generate a highly realistic image representative of the original scene, enabling it to provide video quality close to the capabilities of the human eye.
The implementation of WDR technology allows the FD8135H and FD8335H to be widely applicable in high contrast environments such as lobby entrances, parking lots, ATM machines, loading areas and much more. The P-iris lens controls the iris with extreme precision; with its built-in stepper motor, it maintains the iris opening at an optimal level at all times, resulting in superior image clarity and depth of field as well as image quality.
"We are absolutely thrilled about the launch of our first megapixel fixed domes with WDR technology. ISC West is the perfect place for them to make their debut," said Harry Hu, President of VIVOTEK USA. "Although there are many choices when it comes to network cameras, none of them come close to the usability, affordability and reliability of VIVOTEK."
Other models to be showcased at the VIVOTEK booth include the newly launched, long-awaited 5-Megapixel lineup from VIVOTEK, enabling users to take to a new level of detail. In addition, VIVOTEK's diverse, comprehensive line of software alliance partners will also be present at the booth.
ISC West takes place in Las Vegas, Nevada from March 28 to March 30 at the Sands Expo & Convention Center.
About VIVOTEK
VIVOTEK, established in 2000, has quickly taken its place as a leading brand in the security industry. Known for delivering world-class IP surveillance solutions, VIVOTEK specializes in system applications and integrations. With the innovative R&D teams adopting ground-breaking codec technologies, VIVOTEK provides a wide range of products, including network cameras, video servers, video receivers and central management systems. VIVOTEK was listed on the Taiwan Stock Exchange in 2006. In 2008, a branch office was set up in California, USA. VIVOTEK currently has relationships with more than 150 authorized distributors in over 80 countries. For more information, please visit http://www.vivotek.com.