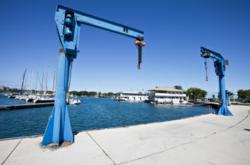 jib crane plans includes everything companies or individuals need to plan and build their own jib crane
Duluth, Minnesota (PRWEB) March 15, 2012
Gizmoplans has expanded their extensive collection of DIY projects by adding jib crane plans, giving companies and individuals the opportunity to save money by building their own jib crane. Users can choose their own jib crane design to fit their company's needs, choosing a two ton or five ton lifting model. If someone needs a jib crane that handles a different weight such as one ton, three ton, or four ton, they can use a set of calculations included with the design to make the necessary adjustments.
As companies continue to look for ways to cut costs in an unstable economic climate, DIY projects are growing in popularity as an alternative. Gizmoplans is responding to that need by offering customers jib crane plans, which includes shop drawings and layouts for a full revolving jib crane. The jib crane design supplies companies and individuals with: bearing supplier and size charts, jib cranes calculations for base plates and base plate guides, anchor bolt sizes, pipe size, head details, technical specifications in the form of a pipe size chart and beam size chart, head dimensions, head frame, top bearing plate, lower roller assembly, upper bearing assembly, weld "I" beam to jib head frame weld, weld cap plate onto vertical pipe, and dropping the jib head into place on the crane.
The jib crane plans includes everything companies or individuals need to plan and build their own jib crane. The crane design specifications are as follows:

360 degree rotation
Specifications for one half ton to five ton lifting capacity
Up to 20 feet boom length
Up to 20 feet in height
Complete blueprint layout and welding specifications for five ton crane
In addition to the plans for the jib crane, customers can receive technical support by contacting the engineering staff at Gizmoplans at any time during the construction period via telephone or email. The company offers the plans with a money back no risk guarantee, which is posted on its website. Customers can build the crane themselves or have their local fabricator build the jib crane according to the measurements and specifications that come with the plans. For more information on the jib crane and other DIY construction blueprints that Gizmoplans offers, visit their website.
About Gizmoplans
Gizmoplans is an online informational website that provides businesses and individuals with downloadable DIY solutions. These plans can be used to build projects for recreation, hobbies, recycling, industry, woodcrafts, metal fabrication, alternative energy and much more. Gizmoplans is also a hub for businesses and individuals to upload and sell their own plans, patterns, how-to ebooks and more. This online marketplace can benefit both the purchaser and the seller in the DIY community. To get more information on DIY plans and DIY projects, visit Gizmoplan's website at http://gizmoplans.com/.