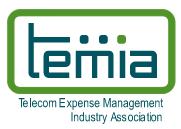 Explosive growth in tablets, security threats and smartphones with BYOD, demand that organizations focus on Mobile Device Management.
Westlake Village, CA (PRWEB) March 15, 2012
As part of its ongoing mission to provide educational programs about Mobile Device Management, MDM, Telecom Expense Management, TEM, Wireless Expense Management, WEM, the Telecom Expense Management Industry Association (TEMIA) (http://www.temia.org), is offering a free webcast for enterprises, government, and other organizations interested in best practices regarding MDM.
The webcast titled, Thinking about an MDM Solution…Now What, is Wednesday, March 21 at 11:20 AM Eastern Standard Time or 3:20 PM GMT. TEMIA's guest speakers, Erik Eames, Managing Director and Fernando Oliveira, VP of Client Services for Wireless Analytics, LLC, will review critical information and data necessary to evaluate MDM solutions. The presentation will include security considerations and comparisons of the level of effort to manage different operating systems in an enterprise mobile environment.
Register today for the webinar on Thinking about an MDM Solution…Now What? or go to the TEMIA website: http://www.temia.org/resources/webcasts to register for this webinar and other upcoming webinars. If you are considering Mobile Device Management solutions or have already deployed tablets and smartphones that need to be managed and secured, this webinar will provide the key information, policy impact and best practices you need to know.
"With the increasing adoption of smartphones and tablets across the enterprise, it is critical that a deployment strategy be looked at holistically", said Fernando Oliveira. "For instance, some companies do a great job at MDM vendor assessment, and an initial deployment strategy, but neglect to account for the daily staffing required to effectively manage an MDM solution across the enterprise".
Joe Basili, managing director for TEMIA stated, "This upcoming webinar is part of a growing number of programs which help fulfil TEMIA's central mission of promoting the value of communications technology life cycle management through education and marketing. TEMIA member companies are well-positioned to address best practices, performance metrics, and industry standards."
About TEMIA
The largest Telecom Expense Management service providers founded TEMIA, the Telecom Expense Management Industry Association, in 2006. Since that time, TEMIA has grown to 40 members with international corporate headquarters managing over $61 billion of telecom and data spend.
TEMIA's mission is to raise awareness and knowledge of the values and benefits of Telecom Expense Management TEM, Wireless Expense Management (WEM), Managed Mobility Services, (MMS) and Mobile Device Management (MDM) solutions, to improve the quality and value of these solutions through the development and promotion of open industry standards, and industry knowledge among Solutions Providers, business partners, telecom service providers, and enterprise clients.
For more information about TEMIA, visit http://www.temia.org.
About Wireless Analytics, LLC
Wireless Analytics provides outsourced mobility management services such as online visibility and reporting, wireless policy development, cost analysis, procurement, complete help desk services, inventory management, and carrier invoice management. Additionally, Wireless Analytics offers the proprietary CLEAN Platform™, a wireless telecom expense management tool that empowers businesses through easy access to wireless performance metrics.
To learn more, please visit http://www.wirelessanalytics.com, call 1.888.588.5550 or email mediarelations(at)wirelessanalytics(dot)com.