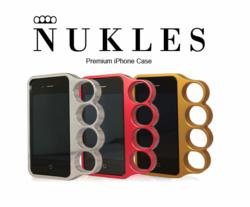 This iphone case looks like jeweled rings!
(PRWEB) March 16, 2012
This new Nukles Brand iphone case has incorporated a 4-finger, jewelry-like, handle into a sleek, functional, and protective iphone case. The Nukles iphone case was inspired by one of the fashion industry's newest, chicest trends; the novelty, brass knuckle.
The Nukles case is an edgy, yet luxe, iphone accessory that is precision, CNC machined from a solid block of aircraft grade, aluminum billet. For ultimate protection, this metal case is lined with a shock absorbing, thermoplastic, polyurethane gasket.
This new iphone case has been anodized and polished, not only for its good looks, but also for its hard, protective finish. It is scratch-resistant and will help to protect your iphone in the case of a drop.
The handle on the case, provides a great grip on your iphone to discourage dropping, while also giving it an edgy, gorgeous, jeweled look.
No tools are required to install the iphone. To insert and hold the iphone in place, one simply slides the back-plate for a snug, safe fit.
The openings on the Nukles case have been machined large enough, so as to not interfere with the function of the iphone, while also providing plenty of space for other high-end, iphone accessories.
The Nukles (Patent Pending) iphone case, definitely garners a lot of attention and looks amazing while in use. Another bonus to this new iphone case, is that the Nukles Brand donates part of the proceeds to the Make-A-Wish-Foundation. You can feel, and look good, when sporting one of these new iphone protective cases.
For more information, or to place an order for the Nukles iphone case,
go to the Nukles iphone case website
"Apple®" and "iPhone®" are trademarks of Apple Computer, Inc., registered in the U.S. and other countries.