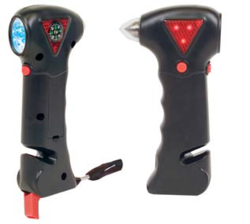 Always make sure before leaving to inspect and prepare the car or truck that will be driven
Destin, FL (PRWEB) March 15, 2012
Millions of Americans are gearing up for the Easter holiday. Elementary school, high school, and college students anxiously wait for a week away from school, while parents anticipate spending vacation days soaking up sun. With warm weather nationwide, and the tourism industry showing strong signs of growth in consumer spending, Spring Break 2012 is gearing up to be a big one. Disaster Relief Supply, an online supplier of emergency preparedness products, has compiled a list of the most important items to consider taking along on a spring break vacation road trip.
A survival kit is typically a portable backpack full of essential survival supplies. Pre-made kits can be purchased at many major retailers under names like "emergency kits", "disaster kits", or "bug-out-bags", but home-made kits can be made to fit specific needs, and also tend to be more cost-effective. Whether pre-made or home-made, a survival kit should feature at least four key things.
1. Food – 72 hour supply per passenger. High-calorie energy bars and ready to eat MRE's are recommended.
2.Water – 72 hour supply per passenger (½ gallon per person/day is recommended).
Either bottled or pre-packaged for long-life. If using bottled water check the expiration date, over time toxins from the plastic can contaminate the water.
3.Mini first aid – A small first aid kit should be included. A prepared motorist should have a separate first aid kit in their vehicle as to not have to tamper with the emergency kit.
4.Glow sticks or other light source – Glow sticks are an inexpensive, easy to use, and fuel-less source of light, but a crank, shake, or battery powered flashlight would also work (providing the batteries are tested before departure). As with first aid kits, a prepared motorist should have an additional flashlight or lantern outside of their kit for non-emergency situations, or for issues "under-the-hood".
Remember to keep an emergency kit in a safe but accessible area of the vehicle. Try not to bury the kit with luggage, or use the contents unless absolutely necessary. Replacing certain items can be difficult while on the road, and disaster can strike at any time.
An emergency road kit is similar to the survival kit in that it can be purchased pre-made, or built by the traveler. A road kit is usually contained in a backpack or suitcase, and normally contains flares, puncture seal, jumper cables, poncho/shoe covers, and tie-down cords. A road kit is only necessary in the event of vehicle damage or malfunction, so storing it underneath the floor boards or in the trunk is OK.
Bad weather is a top cause of automobile accidents. According to the NHTSA (National Highway Traffic Safety Administration), in 2005 13% or 4368 fatal car accidents were reportedly caused by rain, snow/sleet, and other unfavorable weather conditions. Portable weather radios broadcast NOAA weather band alerts that report continuous weather information directly from the nearest National Weather Service office.
-Glass Breaker/Seatbelt Cutter-
A serious accident may require emergency action. If trapped in a burning or heavily damaged vehicle, a quick escape may be necessary. Many companies make specialized glass shattering windows and windshields called "Emergency Hammers" for this purpose. A seatbelt cutter is also considered an important tool in the event of a car accident. If the buckle-locking mechanism is jammed, the belt must be cut to allow exit from the vehicle. Both of these products are usually found in a multi-purpose "Car Escape Tool". Remember to keep these items in a center council, glove box, or any other easily accessible area.
Changing flat tires, checking under the hood, examining damage, and recovering lost possessions from under a car seat is tough in the dark. Make sure to keep a flashlight or lantern handy, if it is not crank-powered, make sure to test the batteries before leaving and bring extras.
First aid kits contain bandages, medicine, disinfectants, and other common medical supplies. Keep a medium sized (130 piece or larger) first aid kit in an easily reachable area in case of an emergency.
Always make sure before leaving to inspect and prepare the car or truck that will be driven. Check that all fluids are replenished, tires are filled to the recommended PSI, all external lights are functional, and no internal issues are left ignored. Squeaky breaks can quickly become worse when driving hundreds or thousands of miles continuously. Remember not to store fuels like gasoline inside the vehicle and avoid the use of propane or kerosene powered products while inside the automobile (this includes flashlights, lanterns, grills, heaters, etc.). Vacation is a time for relaxation and fun, use this list from Disaster Relief Supply to make sure the road to Spring break is a smooth one.