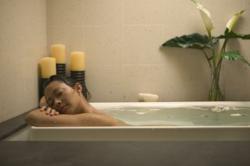 New York, NY (PRWEB) March 15, 2012
Whether you're rejuvenating your mind, body or home – spring is the perfect time for new beginnings, and Loews Hotels' new "Spring Renewal" package offers the perfect place to make it happen.
"Traveling is a wonderful luxury, but it's also an important investment in your well-being," said Lark-Marie Antón, Vice President of Public Relations for Loews Hotels. "We believe a quick getaway can make a world of a difference, and that's exactly what this package is designed to do."
Loews Hotels' "Spring Renewal" package includes:

Accommodations in the supremely-comfortable surroundings of Loews Hotels
Healthy and delicious vitamin-packed smoothie
Fruit amenity upon arrival
Complimentary fitness center access
$25 food and beverage credit toward any dining moment
Sample product of hand sanitizer from Ecolab for your personal wellness
Loews Hotels' Spring Renewal package is available now through April 30, 2012. Rates vary per location and start at $129 at Loews Denver Hotel and Loews Hôtel Le Concorde per night.
In addition to refreshing getaways, Loews Hotels' talented team members are sharing their best spring sprucing tricks of the trade. While Loews Hotels uses commercial grade, sustainable products from Ecolab to keep the properties fresh year-round, our experts will provide tips that will be posted on Facebook and Twitter which guests can implement at home. Examples include:

For streak-free windows, use newspaper instead of paper towels with your preferred window cleaning product – Arandy Ancheta, Loews Regency Hotel
Sprinkle baking soda at the bottom of the trash can to absorb any unwanted odors – Rose Trillana, Loews Coronado Bay Resort
Mix lemon juice and flour to create a paste that can polish away stains on copper pots and flatware – Abdoulaye Keita, Loews Philadelphia Hotel
For more information on this and other special offers from Loews Hotels, please call 1-800-23-LOEWS or visit http://www.loewshotels.com.
Terms & Conditions: Offer valid through 4/30/12; subject to availability. Minimum one-night stay. Not applicable to Loews Hotels at Universal Orlando (Hard Rock Hotel at Universal Orlando®, Loews Portofino Bay Hotel at Universal Orlando®, Loews Royal Pacific Resort at Universal Orlando®). Offer not applicable to groups, negotiated or third-party rates. Not combinable with any other offers. Not applicable to existing reservations. YouFirst benefits apply.
About Loews Hotels & Resorts
Headquartered in New York City, Loews Hotels & Resorts owns and/or operates 18 hotels and resorts in the U.S. and Canada, including its newest, the 414-room Loews Atlanta Hotel that opened April 1, 2010. Located in major city centers and resort destinations from coast to coast, the Loews portfolio features one-of-a-kind properties that go beyond Four Diamond standards to delight guests with a supremely comfortable, uniquely local and vibrant travel experience. Loews boasts some of the industry's most innovative and successful travel programs, including Loews Loves Kids for families and Loews Loves Pets for discerning animals on the road. For reservations or more information on Loews Hotels, call 1-800-23-LOEWS or check http://www.loewshotels.com.
Like Loews Hotels & Resorts on Facebook: http://www.facebook.com/LoewsHotels
Follow Loews Hotels & Resorts on Twitter: http://www.twitter.com/loews_hotels
Watch Loews Hotels & Resorts on YouTube: http://www.youtube.com/LoewsHotels
Contact:
Loews Hotels
Lark-Marie Anton
(212) 521-2779
Lanton@loewshotels.com
Hawkins International Public Relations
Emily Easter
(212) 255-6541
Emily@hawkpr.com