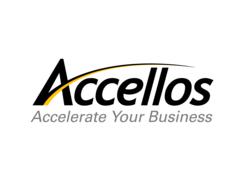 "The AccellosOne platform is perfectly suited for operating in an enterprise cloud due to the rich user interface which runs in a web browser and the inherent multi-tenancy of the platform." Ross Elliott, Accellos Chief Technology Officer
Houston, Texas (PRWEB) March 18, 2012
Accellos, Inc., a leading provider of supply chain execution software solutions, has launched its AccellosOne Warehouse Management System (WMS) in a cloud deployment option. The new product offering will be available for review at Convergence 2012.
AccellosOne Cloud WMS delivers best-of-breed warehouse management capability in a hosted model utilizing enterprise cloud technology. Key benefits of AccellosOne Cloud WMS include:

Flexible subscription pricing
Technical administration such as back-up, disaster recovery and system availability monitoring provided by Accellos
Software updates included as part of the service
Elastic computing resources
Ability to personalize system to meet needs of specific distribution centers
Standard integration to many accounting and ERP packages including Microsoft Dynamics, Sage, and SAP BusinessOne
"A historic number of small and midsized businesses (SMB) are turning to cloud software applications to support their operations because of the flexible pricing, speed of deployment and simplicity it brings the IT team," said Chad Collins, Accellos Chief Marketing Officer. "We expect this deployment option will allow even more SMBs to take advantage of full featured WMS."
"The AccellosOne platform is perfectly suited for operating in an enterprise cloud due to the rich user interface which runs in a web browser and the inherent multi-tenancy of the platform," said Ross Elliott, Accellos Chief Technology Officer. "Additionally, our ERP connectors are available to ensure seamless communication between the WMS and ERP even if the ERP is deployed on-premise. "
The AccellosOne Cloud WMS contains all the features to ensure efficient performance of distribution centers including inbound order processing, inventory control, optimized tasking, wave planning, and outbound order fulfillment. Additional modules from the AccellosOne platform can be added to the AccellosOne Cloud WMS including dock door scheduling, supply chain business intelligence, document management and 3PL billing.
This year's Convergence event will take place March 18-21 at the George R. Brown Convention Center in Houston, TX. Accellos is a Silver Sponsor of the event.
For more information on Microsoft Dynamics Convergence 2012, visit http://www.microsoft.com/dynamics/convergence/houston12/.
For more information on Accellos' warehouse management solutions, visit http://www.accellos.com/warehouse.
About Accellos
Accellos is a global provider of software solutions specifically designed for the unique needs of logistics service providers and small and midsized businesses (SMB). Over 3,000 companies trust Accellos to be the technology backbone of their global supply chains. Accellos provides solutions for warehouse management systems (WMS), third party logistics (3PL), fleet management, transportation management systems (TMS), trading partner integration (EDI), automated barcode data collection, parcel shipping, transportation optimization and supply chain business intelligence. Accellos solutions are built on the AccellosOne platform, a modern technology platform featuring a user-friendly interface and simplified technical administration. For more information, email info (at) accellos.com or visit http://www.accellos.com.
All products are either registered trademarks or trademarks of their respective companies in the United States and/or other countries.
# # #