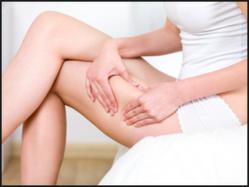 Liposuction slims and reshapes targeted areas.
Park City, Utah (PRWEB) March 23, 2012
The American Society of Plastic Surgeons calls cellulite as a common condition which causes dimpling of the skin. While the ASPS says "there are a number of different ways to treat cellulite", it suggests that no "sure-fire cure" exists but notes that liposuction is a highly popular plastic surgery procedure.
In a new online article, LipoSite.com explains that some researchers and plastic surgeons believe cures do exist – and liposuction may be among them.
"Liposuction slims and reshapes targeted areas," says Shawn Miele for LipoSite.com. "With excess fat removed, consumers get better contours and an improved self-image."
"The debate about liposuction as a cure for cellulite centers on techniques which encourage collagen production and muscle contraction. Laser light, heat and ultrasound waves may do just that – smoothing and tightening the skin to cure its side effects."
LipoSite.com says that may be reason to consider them a cure, with a strong contender being Ultrasound Assisted Liposuction therapy. The UK Health Centre says that post-UAL patients get lower cellulite levels and skin that is firmer, tighter and more elastic.
The LipoSite.com article also mentions another proposed treatment for cellulite, which is mesotherapy. During mesotherapy, a blend of natural extracts, homeopathic agents, pharmaceuticals and vitamins are injected below the skin's surface. The mixture is said to eliminate cellulite, promote weight loss and treat aging and/or sagging skin.
"It may activate cells and help flush fat from the body," explains Miele, "but because it is non-surgical, the ASPS can't endorse it. Even the FDA exerts little control over it."
So the best anyone looking to shed cellulite can currently do, asserts LipoSite.com, is turn to a board-certified plastic surgeon for advice and rely on time-tested, fat-removal procedures that get them one step closer to their goals. They can also stay on top of new developments in the field of cosmetic plastic surgery at LipoSite.com.
LipoSite.com says anyone looking to avoid cellulite altogether can also:

Eat a well-balanced diet that's low in fat
Smoke, drink & eat less to encourage skin elasticity
Do weight-bearing exercises that build fat-burning muscle
Take advantage of increases in post-lipo mobility & exercise more
They can also view their post-lipo look as incentive to stick to a healthier routine, though choosing the right liposuction procedure and understanding its risks and benefits is key.
The full article is currently available online at LipoSite.com. Once there, consumers can learn more about various liposuction, body contouring and body sculpting procedures. They can also search through an online database of board-certified plastic surgeons.
About LipoSite.com: What began as a girlfriend-to-girlfriend resource for information about plastic surgery after weight loss (in 1998) has grown into a full-fledged resource. Consumers can read articles about liposuction and related procedures, search our board-certified surgeon database and verify doctor credentials online – for FREE – 24/7.