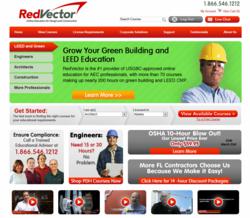 This marks the first time in RedVector history we have had courses approved and launched in advance of the new Florida Building Code going into effect" Matt Casey, PhD, Vice President of Content for RedVector
Tampa, FL (PRWEB) March 16, 2012
RedVector.com, the leader in online continuing education and training for the architecture, engineering and construction (AEC) industry, recently updated its online education library to reflect the most recent changes to the Florida Building Code (FBC). Two newly revised 1-hour courses include: Florida Building Code Advanced 2010: Residential Floors and Florida Building Code Advanced 2010: Fixtures, Faucets and Fixture Fittings. Florida contractors are required to complete one hour of an approved advanced building code course every two years.
"This marks the first time in RedVector history we have had courses approved and launched in advance of the new Florida Building Code going into effect," says RedVector Vice President of Content Matt Casey, PhD. "We consider it a great accomplishment to have these courses available already and a testament to our commitment to providing the highest-quality CE content in the industry."
During the 1970s construction boom, statewide building codes were first mandated for the state of Florida, and in March 2002 the Florida Building Code was developed to create a uniform code to be enforced by all local governments. The code is periodically reviewed and updated, and the most recent version—which went into effect March15, 2012—reflects the 2010 changes.
"As an education provider we have an obligation to our clients to provide the most accurate and up-to-date course content," says Jeff Nippes, Director of Content Development for RedVector. "
"For our Florida-based professionals, these new courses reflect the most current version of the Florida Building Code and complement our existing Florida Building Code course library. In the coming months we also plan on releasing several more 2010 FBC courses focusing on various sections of the new building code currently under development."
About RedVector
RedVector sets the standard for excellence in online continuing education and training for the design and construction industry and holds more than 60 state and national accreditations. Through our award-winning AEC Learning Management System (LMS) we offer individual courses as well as large-scale corporate training solutions for AEC firms featuring customizable and easily accessible online universities with a full range of tracking and reporting features. With an online library exceeding 1,100 courses authored by more than 100 subject matter experts, RedVector serves more than 130,000 AEC professionals in all 50 states. The recipient of numerous community honors and industry awards, RedVector was founded in 1999 and is headquartered in Tampa, Florida. For further information call 1-866-546-1212 or visit http://www.RedVector.com.