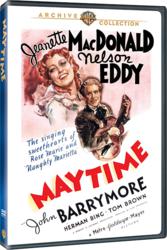 Maytime was actress/singer Jeanette MacDonald's favorite of the eight films she made with screen partner Nelson Eddy.
Philadelphia, PA (PRWEB) March 26, 2012
Maytime (1937) is told in flashback style, in which Jeanette plays a young operatic singer in nineteenth century-Europe. After accepting her voice instructor's (John Barrymore) proposal of marriage, she realizes she loves handsome singer Eddy. MacDonald stays with Barrymore for seven years, but when the baritone singing opposite her in her next opera is her beloved Nelson, their love is apparent. Maytime is based on a Sigmund Romberg operetta and features some musical selections from Verdi, Rossini, Wagner and others. Maytime was one of the most popular films of the MacDonald-Eddy pairings and remained the actress/singer's favorite of the eight films she made with her singing partner.
 
As an added bonus for collectors of classic musicals, Rose Marie (1936), another iconic MacDonald/Eddy sensation, is being released on DVD through Movies Unlimited the same day as Maytime.
Rose-Marie (1936) continues to be the most requested of all the Jeanette MacDonald and Nelson Eddy collaborations, due to the popularity of their memorable duet of "Indian Love Call." In this outdoor musical adventure, opera star Jeanette is headed to the northern wilderness of Canada where her outlaw brother (James Stewart) is hiding out in a log cabin after his escape from prison. Along the way, she encounters a dashing Royal Mountie (Eddy) who, as luck would have it, is hot on the trail of her wayward brother. More songs abound and viewers are treated to such songs as "Just for You," Some of These Days" and the title song. Featured in supporting roles are David Niven, Reginald Owen, Allan Jones and Gilda Gray. Rose Marie and Maytime are being released in conjunction with Warner Archives.
Movies Unlimited is one of the oldest and most reliable video retailers in the world, offering DVD and Blu-ray titles, specializing in hard-to-find movie classics. Rose-Marie and Maytime can be ordered through their website at http://www.moviesunlimited.com  or by calling 1-800-4-MOVIES. The Philadelphia-based company also publishes the annual encyclopedic 800-page Movies Unlimited DVD Catalog. For further information, please contact: Irv Slifkin (irv@moviesunlimited.com) at 215-637-4444, ext. 6113