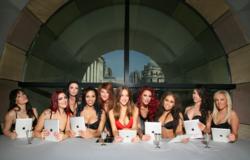 A rare opportunity to FaceTime with one of the hottest models in the UK.
London, UK (PRWEB UK) 16 March 2012
Saucytime, the worlds first webapp to utilise Apple's FaceTime technology for premium calls, is celebrating the launch of the new iPad today with a guest appearence of glamour model and Page 3 regular Rosie Jones. Saucytime customers will get the rare opportunity to spend time with one of the hottest models in the UK.
21 year old Rosie will be joined by the Sauctime regulars, ranging from models, dancers and late night television hosts with all proceeds for the day being donated to charity.
Model Rosie is a regular on Page 3 and has appeared as a cover girl on various mens magazines including Loaded. She is also a Guinness World Record for the most bras taken off and put on in one minute back in November 2009 with a record of seven.
Since its launch in 2011, Saucytime users have quickly realised the benefit of the large form factor, mobility and superior quality of the iPad over static, PC webcam services. The brainchild of Lei Wales, a 23 year old former lapdancer, Saucytime offers a completely interactive and personal experience utilising the very latest advancements in video calling technology.
For more information see our FAQ, or to register, go to or email inquiries to info(at)saucytime(dot)com.
iPad, iPhone & FaceTime are registered trademark of Apple, Inc. Saucytime is in no way affiliated with Apple, Inc. or any of their affiliates.