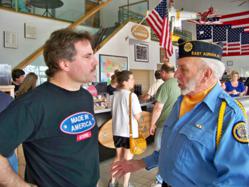 We need to bring back respect to our active military personnel and retired veterans that put their lives on the line for this country
Elma, NY (PRWEB) March 18, 2012
The Made In America Store has been committed to military personnel, both currently serving and retired, since the opening of the store in April of 2010. On a select few military and American holidays, veterans get a special perk at the store, on top of an everyday discount on their entire purchase. On March 30th and 31st, the Made In America Store will be honoring all US veterans, specifically the Vietnam vets with a special weekend and a thank you.
Mark Andol, owner of the Made In America Store, reminds consumers that without the men and women serving in the military, we wouldn't be where we are today. To make sure all of our military personnel get the appreciation they deserve, the Made In America Store offers discounts to them everyday and a "thank you" with every visit.
"We need to bring back respect to the veterans that fought and lost their lives for this country" says Mark Andol. "These Americans made a sacrifice for our country, it's time to give back and show the same respect they deserve and fought for."
The Made In America Store wants to pay tribute to the Vietnam vets and remind everyone that even though these troops weren't greeted when coming home, they still sacrificed their lives to protect America.
In 1973 all the American soldiers were withdrawn from Vietnam and the troops were met with hostility and criticism. These men who made sacrifices were frustrated and felt unappreciated when coming home. They dealt with political flack and a lot of the population protesting the war to begin with, there was no praise for the soldiers.
Over nine million military personnel served during the Vietnam War. Of that massive number, 58,156 US troops lost their lives and 303,704 US soldiers were wounded in action. The US Senate passed a resolution back in 2011 declaring March 30th "Welcome Home Vietnam Veterans Day." Currently the entire nation recognizes this day of commemoration and to pay respects the Vietnam veterans never received when they first arrived home.
The Made In America Store will be offering grilled hot dogs all day for all veterans and active duty free of charge.
The Made In America Store is located at 900 Maple Road in Elma, New York and is committed to selling 100% American manufactured products. You can visit http://www.SaveOurCountryFirst.com for more information or shop our catalog of over 290 vendors that are devoted to producing USA made products. Consumers can also keep up to date news articles, events, photos and contests with Facebook, Twitter, Google+, Pinterest and Tumblr!