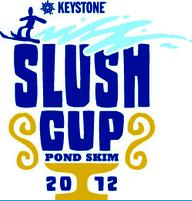 This is turning out to be a huge event for the area, even after just one-year of existence
Keystone, CO (PRWEB) March 16, 2012
The farewell party to the 2011/12 ski and snowboarding season comes to an end on Sunday April 8, 2012 for Keystone resort, but not before the resort has a chance to celebrate its 2nd annual "Keystone Slush Cup". The skimming style event, now in its second-year, takes advantage of the spring snow melt and promises to bring sell-outs to lodging in the area.
Located at The Mountain House area of Keystone Resort, which was the first base area opened in 1970, the Slush Cup challenges skiers and snowboarders to the thrill of snow skiing and water skiing. After participants bail down Go Devil ski run, they are graded on the ability to carefully maneuver through a 25-yard pool of spring melt ice-water. Those that are successful, have the opportunity to win prizes for different categories. Award categories include Best Crash, Best Costume and Best Overall transition.
Prizes include free Summit Passes and various random prizes for participants.
The contest winner qualifies for the Slush Cup Championships scheduled at Vail Resort on April 15, 2012.
The Keystone Slush Cup registration starts Sunday April 10 at The Mountain House base office. The event is open to 100 participants on a first-come first-served basis with a registration fee of $35.00.
"This is turning out to be a huge event for the area, even after just one-year of existence. We've noticed event lodging at both The Mountain House Area and River Run Village is filling-up," says Gondola Resorts General Manager, Gino Malara. "There are still some Keystone vacation rentals still available within walking distance to the event, but those are sure to be sold-out soon".
The closing weekend also hosts another episode of River Run Rocks on Saturday April 9 with concerts including The Great Unknowns, Robert Earl Keen and Marty Jones.