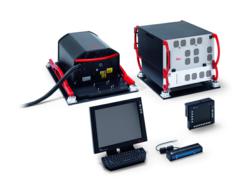 The ALS70-HP version will give us the most versatility to meet applications in the markets we already serve and to expand into new markets in the future
Norcross, Georgia (PRWEB) March 16, 2012
Leica Geosystems Inc. today announced that Photo Science has purchased a Leica ALS70-HP airborne laser scanner, bringing to four the total number of Leica LiDAR systems owned and operated by the Lexington, KY, geospatial services firm. In addition, Photo Science has contracted Leica to upgrade one of the company's existing ALS60 sensors later this year.
"We purchased the Leica ALS70 because we expect to experience an increase in efficiency and market diversity with it," said Bob Hickey, Senior VP of Business Development for Photo Science. "This is a multi-purpose sensor, and we feel we will get excellent value from it.
A full-service geospatial solutions provider, Photo Science maintains one of the largest precision aerial acquisition operations in the United States. In addition to the four Leica LiDAR sensors, Photo Science owns three Z/I Imaging large-format DMC digital mapping cameras. The firm operates a fleet of 10 single- and twin-engine aircraft that are deployed nationally. For its LiDAR systems, Photo Science has traditionally focused on serving the needs of large-area regional and municipal mapping projects requiring the generation of topographic maps and orthophotos.
The Leica ALS70 is an affordable airborne laser scanner with an effective 500 kHz pulse rate capability designed specifically for high-density point collection in diverse environments, which can reduce flying time up to 60 percent. The ALS70 features Point Density Multiplier technology that allows for a quantum increase in measurement and scan rates over previous capabilities. The Leica ALS70-HP version purchased by Photo Science was developed for general purpose mapping over a wide variety of terrain at different flying altitudes. The ALS60 upgrade contracted by Photo Science will give the sensor power that is equivalent to the ALS70.
"The ALS70-HP version will give us the most versatility to meet applications in the markets we already serve and to expand into new markets in the future," said Hickey.
The markets for LiDAR data are maturing in two ways, Hickey explained. First, existing applications for digital elevation data are requiring an increase in point density per square meter, which the powerful ALS70 can accommodate. Second, the demand for accurate LiDAR data is now coming from new markets including vegetation analysis and utility transmission line mapping that require bare-earth returns in narrow corridors. The ALS70-HP can meet the diverse needs of these markets.
"Many LiDAR sensors on the market are designed with one application in mind, but the ALS70-HP is a true multi-purpose laser scanner developed to meet the needs of many markets," said Jean Gardiner, General Manager of Leica Geospatial Solutions. "And the ALS70-HP can be upgraded to the HA version for firms that need to perform high-altitude LiDAR collection."
Photo Science Inc.
Headquartered in Lexington, KY, and established in 1974, Photo Science is a geospatial solutions provider specializing in aerial acquisition of imagery and LiDAR, data collection/processing, photogrammetric mapping, remote sensing, GIS, system integration, and GPS surveying services. The firm has a staff of 190 professionals supporting federal, civil and private sector clients from nine offices. Visit http://www.photoscience.com.
Leica Geosystems – when it has to be right
With close to 200 years of pioneering solutions to measure the world, Leica Geosystems products and services are trusted by professionals worldwide to help them capture, analyze, and present spatial information. Leica Geosystems is best known for its broad array of products that capture accurately, model quickly, analyze easily, and visualize and present spatial information.
Those who use Leica Geosystems products every day trust them for their dependability, the value they deliver, and the superior customer support. Based in Heerbrugg, Switzerland, Leica Geosystems is a global company with tens of thousands of customers supported by more than 3,500 employees in 28 countries and hundreds of partners located in more than 120 countries around the world. Leica Geosystems is part of the Hexagon Group, Sweden.
For further information please contact:
Leica Geosystems Inc.
Andre Ribeiro, MBA
Director of Marketing Planning and Communications
Atlanta, GA 30092
Phone: +1 (770) 326-9557
Fax: +1 (770) 447-0710
Andre.ribeiro@leicaus.com