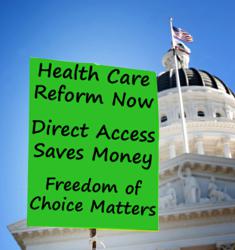 direct access to physical therapists is not only safe and smart, but extremely cost-effective and empowers patients to make better health care choices.
Sacramento, California (PRWEB) March 20, 2012
Physical therapist activists turned out in large numbers today to discuss evidence-based health care policy with dozens of legislators, particularly Senate Bill 924 (SB 924), which would allow patients to directly access physical therapists. The centerpiece of their message is that direct access to physical therapists is not only safe and smart, but extremely cost-effective and empowers patients to make better health care choices. Several recent landmark studies published in top medical journals all concur that early and direct access to physical therapists saves time, saves money, and helps avoid more costly medical services (1) (2) (3).
Doctor David Straight, Chair of the California Physical Therapist Private Practice Group (CA PPG) states, "Physical therapists are in an excellent position to be an entry-point health care provider for patients with musculoskeletal (MSK) complaints." Straight points to the fact that a large percentage of physician office visits are related to joint and muscle pain or stiffness, but most physicians do not have adequate training to manage these problems in a cost-effective manner. "Several studies show that about 80% of physicians fail the well-accepted physicians' MSK screening exam and that medical training is inadequate in this area," according to Straight (4). CA PPG is not surprised about the findings in these studies since many medical schools only offer a handful of hours in MSK education. In contrast, physical therapists receive 3 years of doctoral-level training focused specifically on MSK assessment, differential diagnosis, and treatment. Research has shown that, unlike physicians, a large majority of physical therapists pass the physicians' MSK exam (5).
Despite a mountain of evidence supporting the safety and efficacy of physical therapist direct access, California physical therapists and patients still have formidable opponents and obstacles standing in their way. The Medical Board of California (MBC) and California Medical Association (CMA) oppose SB 924 because they claim patients will be at risk because physical therapists do not diagnose patients' problems. Rick Katz, Payment Policy Chair for CPTA counters, "Once again, the MBC and CMA statements are clearly not based on facts because federal Medicare guidelines require that physical therapists render a diagnosis within their scope of practice before treating patients as a condition for payment (6). In addition, according to the Federation of State Boards and HPSO, the number one malpractice insurer, there have been no safety or malpractice concerns in any state as a result of physical therapist direct access." (7) (8) Katz also reminds CMA that SB 924 is a bipartisan "compromise bill", which was brokered in good faith between CMA and CPTA by authors Senate Pro Tem Darrell Steinberg, Senator Curren Price, and Senator Mimi Walters.
The California Chiropractic Association (CCA) has also formally opposed SB 924 claiming that physical therapists do not understand the body adequately to treat patients in a direct access environment. In a media statement released last month by CA PPG, Doctor Straight called the CCA position "laughable, yet sad at the same time" (9). He also reminded patients and legislators to "consider the source" as well as the self-serving nature of the opposition. Doctor Straight suggested, "The CCA opposition is more related to the fear of competition from physical therapists, who treat patients in an evidence-based, cost-effective manner."
In addition to the opposition from the MBC, CMA, and CCA, there has been a history of strong opposition to direct access by Assemblymember Mary Hayashi, the Chair of the Assembly Business and Professions Committee. In 2009, Hayashi was the only 'no' vote in the committee's hearing on AB 721- Physical Therapist Direct Access, authored by Assemblymember Pedro Nava. The bill was defeated with 3 'aye' votes, 1 'no' vote, and 5 'abstains'. More surprisingly, Hayashi, refused to grant Nava reconsideration for the bill, which is considered standard professional courtesy. Ironically, Hayashi then authored AB 374- Licensing for Athletic Trainers in 2011, which would have allowed athletic trainers unrestricted direct access to treat patients with injuries and illnesses. AB 374 passed through Hayashi's committee unanimously even though, according to the CA PPG, athletic trainers earn bachelors degrees and are only educated to treat athletes-- not patients. According to Doctor Straight, "The hypocrisy of opposing SB 924 and advocating for AB 374 is striking."
SB 924 was amended in January of 2012 to include language from AB 783, a physician referral for profit bill, which Hayashi authored in 2011. AB 783 was defeated twice last year, effectively killing it, but the "compromise language" within SB 924 would allow an inherent conflict of interest by allowing physicians to receive passive income from referring patients to physical therapy clinics they own. CPTA and CA PPG maintain their longstanding opposition against conflicts of interest in health care. However, according to CPTA President Dr. James Syms, "CPTA is supportive of SB 924 because it is the first attempt to balance the marketplace for physical therapists and allows patients the opportunity to make better MSK treatment choices."
CA PPG remains concerned that facts and evidence have not yet won the day when it comes to physical therapy-related legislation and that CMA and CCA have not responded with any evidence to support their positions on direct access or referral for profit. Doctor Straight ironically notes that Assemblymember Mary Hayashi was the CMA Legislator of the Year in 2010 and CCA Legislator of the Year in 2011. He strongly suggests, "It is time to focus on 21st century health care policy." He adds, "CA PPG is confident that the Assembly Business and Profession Committee and all assembly members will see past self-serving politics and unanimously pass SB 924, like the Senate did 36-0. It's time to get patients to a physical therapist fast and first."
Having passed the Senate, the next stop for SB 924 is the Assembly Business and Professions Committee, which Hayashi still chairs. Assemblymembers Michael Allen, Bill Berryhill, Betsy Butler, Mike Eng, Curt Hagman, Jerry Hill, Fiona Ma, and Cameron Smyth also serve on the committee. The bill is expected to be heard in June.
Source: California Private Practice Group