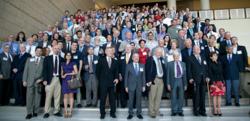 CREOL has become a major force in the laser and photonics community.
Bellingham, Washington, USA (PRWEB) March 16, 2012
Leaders of SPIE, the international society for optics and photonics, participated in the celebration this week of the 25th anniversary of the founding of CREOL, the College of Optics and Photonics at the University of Central Florida in Orlando.
The two-day celebration included a technical symposium highlighted by talks by Nobel Laureates as well as speakers including several Fellows of SPIE.
SPIE President Eustace Dereniak (College of Optics, University of Arizona) presented a congratulatory plaque on behalf of the society to Bahaa Saleh, Dean and Director of CREOL and a Fellow of SPIE, during an awards banquet Thursday evening attended by some 300 guests.
"SPIE and CREOL have enjoyed a longstanding and mutually beneficial relationship" Dereniak said, underscoring the connections between the two organizations. "CREOL has supported the growth of our Defense, Security, and Sensing symposium for many years, and has been home to an SPIE Student Chapter for over 15 years. M.J. Soileau, one of CREOL's founding directors, served as SPIE President and received the society's highest award, the Gold Medal."
Soileau, who now serves as Vice-President for Research and Commercialization at UCF, was the featured banquet speaker. Charles Townes (University of California, Berkeley), Nobel Laureate in Physics in 1964 for his work in the development of the laser and an SPIE Fellow, was present to join in toasting CREOL's past accomplishments and future prospects. The laser institute at CREOL is named in Townes' honor.
John "Jan" Hall (JILA, National Institute of Standards in Technology and University of Colorado, Boulder), Nobel Laureate in Physics in 2005, spoke Thursday about progress in laser technology and a space experiment to test Einstein's assumptions.
Nicolaas Bloembergen (College of Optics, University of Arizona), Nobel Laureate in Physics in 1981, gave a talk on talk Friday about the origin of nonlinear optics.
Also on the program were SPIE Fellows Brian Culshaw (University of Strathclyde), a Past President of the society, and James Pearson, an early CREOL Industry Affiliate and former Executive Director of SPIE now associated with CREOL as a Special Consultant. SPIE Fellow John Pellegrino (U.S. Army Research Lab) and SPIE CEO Eugene Arthurs also attended.
Other Fellows of SPIE on the faculty at CREOL are:

Leonid Glebov
James Harvey
Guifang Li
Winston Schoenfeld
Eric Van Stryland
Shin-Tson Wu
Larry Andrews
Cynthia Young.
CREOL was organized in 1986 with the mandate to be a center of excellence in optics and lasers in research and education, and to act as an intellectual, scientific and technical resource to the optics and photonics industry. Since then, CREOL has formed strong bonds with industry, has become a major force in Florida's laser and photonics community, and is a prime source of highly educated talent in the optics and photonics field.
See more details about CREOL and the anniversary celebration on the event website.
About SPIE:
SPIE, the international society for optics and photonics, was founded in 1955 to advance light-based technologies. Serving more than 225,600 constituents from 150 countries, the Society advances emerging technologies through interdisciplinary information exchange, continuing education, publications, patent precedent and career and professional growth. SPIE annually organizes and sponsors approximately 25 major technical forums, exhibitions and education programs in North America, Europe, Asia and the South Pacific. SPIE provided over $2.5 million in support of education and outreach programs in 2011.