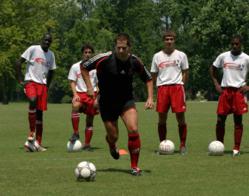 This looks to be one of our more exciting years! We are coast to coast with several new well appointed locations including California and Florida
Virginia Beach, VA (PRWEB) March 19, 2012
Eurotech Soccer World, the premier provider of youth soccer training systems in North America has announced it's U.S. soccer camp schedule for 2012. This year's summer soccer camps for both boys and girls include stops in the Chicago IL, Atlanta, GA, Tampa FL, New Orleans LA, Dallas, TX, San Francisco CA, and Virginia Beach VA areas.
Eurotech Soccer Camps 2012 schedule is as follows:
In the Chicago Illinois area Eurotech Soccer Camps will be held at Lake Forest College from July 8, 2012 to July 21, 2012 and will offer 6 sessions, including 2 combo sessions.
In the Atlanta Georgia area Eurotech Soccer Camps will be at the Darlington School in Rome, GA from July 8, 2012 to July 14, 2012 and will include three sessions or one combo session.
In the Tampa, Florida area, Eurotech Soccer will be at Eckerd College in St. Petersburg, FL, July 2012. The exact weeks are yet to be determined.
In the Dallas Texas area Eurotech Soccer camps Dallas will be offered at the University of Texas in Arlington, TX from July 15, 2012 to July 22, 2012 and will include three sessions and one combo session.
In the New Orleans, Louisiana area a Eurotech Soccer Camp will be offered at Louisiana-Nicholls State University-Thibodaux, LA from July 22, 2012 to July 28,2012. Three sessions and one combo session available.
"This looks to be one of our more exciting years! We are coast to coast with several new well appointed locations including California and Florida." said Jim Risher National Director of Eurotech Soccer World. Eurotech's boys and girls soccer camps have something for every position from Striker to Goalkeeper. Eurotech sessions include a Goalkeeper Academy, a Striker School, and sessions focusing on individual techniques and tactics.
In 2012 Eurotech Soccer World will also offer several discounts for a limited time only including an Early Camper discount of $25, a Returning Camper discount of $25 and a Family Camper discount of $50.
About Eurotech Soccer
Eurotech Soccer has built its' program around a European training philosophy starting with the finest International youth soccer coaches. Eurotech Soccer coaches include national, collegiate and international directors and include national team, Olympic, college, professional coaches and players from some of the finest International clubs and leagues in the world.