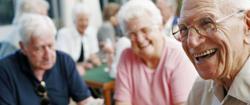 San Francisco, CA (PRWEB) March 19, 2012
Caregivers and families on the hunt for assisted living communities in Northern California have a new web resource to help them make their decision easier. Carlton Senior Living, a group of senior living communities in and around the Bay Area has released a pair of free reports to help families make the right decision about assisted living.
The first report, entitled "Senior Housing Checklist", is a short checklist that covers the most important factors when choosing an assisted living community. Topics include care required for a loved one, reputation of the community, and other considerations all families must make as they sift through the many senior housing options in northern California.
This report also delves into dementia care, an area of assisted living with an explosion of demand. Despite the surge in demand, many assisted living facilities are not properly certified or equipped to handle guests with dementia. The report aims to help families determine whether or not the assisted living facilities that they are considering are able to handle someone with dementia.
The site team adds that their most frequent question since opening their website has been related to expenses and payments. Many note that they aren't sure they can afford to transition their loved on to an assisted living facility.
That's why the team at Carlton Senior Living has drafted a report which on paying for the oft-expensive fees associated with assisted living. The report covers the myriad of payment options available to families. It also includes tips to take advantage of health insurance and government programs which may subsidize the cost of assisted living.
Families that want to download these guides free of charge should head over to: http://www.carltonseniorliving.com/