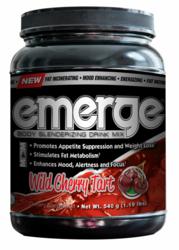 (PRWEB) March 19, 2012
With more than 61% of its population considered overweight, the highest recorded percentage ever, it's little wonder that the search for safe and effective weight loss assistance is ever present. Should that search bring you to a Max Muscle Sports Nutrition store, you'll be more than satisfied. EMERGE, Body Slenderizing Drink Mix is now in stores and surpassing the results originally predicted.
Emerge is a powerful fat loss and body composition slenderizing system specially formulated to inhibit appetite, promote the release of fat from stored fat cells and accelerate the burning of fat for fuel. Emerge contains clinically proven weight loss ingredients to suppress appetite, provide maximum calorie burning specifically from fat, increase energy and elevate the body's metabolism. The combination of selected ingredients promotes a metabolic shift, scientists describe as "fuel partitioning" by shifting the burning of fat as fuel rather than fat for storage.
"Emerge has created a lot of excitement amongst our customers and franchisees because it's a product that tastes great and works even better." said Sean Greene, President of Max Muscle Sports Nutrition. "There hasn't been a product that we have developed in our Twenty One years in business that has created this much initial buzz.".
Added Greene, "The Max Muscle Product Development Team was tasked with developing a powerful……clean energy. They exceeded their objective. Emerge is available in five incredible flavors...Wild Cherry Tart, Grape Blast, Strawberry Lemonade, Tangerine Dream, and Watermelon Splash."
Chief Science Officer Dr. Phil Harvey developed Emerge to be Gluten-Free, and that's opened the product's use to millions of new customers seeking a Gluten-Free diet aid.
Said Harvey, "There is no gluten in Emerge. We use a patented fiber ingredient called Fibersol-2(R) which is derived from a digestion resistant maltodextrin. Maltodextrin is derived from corn and does not contain gluten. Additionally, each serving of Emerge contains 10g of healthy soluble fiber which is 40% of the daily value of fiber per day. Based on an approved FDA nutrient content claim, this makes each serving of Emerge an "Excellent Source" of fiber as it exceeds the 20% plus of the Daily Value."
Franchisees of Max Muscle are heralding the release of EMERGE as well. Tom Rogers, a Max Muscle store owner in Tustin, California for more than a decade has had trouble keeping the product in-stock due to high demand.
"I have been a Max Muscle store owner for 13 years and was wholesaling our products for 2 years before that. So I have actually been proudly selling our products 15 years." said Rogers. "Emerge has been flying off our shelves since its introduction just under two weeks ago. People are really enjoying the refreshing flavors we have brought to our market place. We are sampling it out like crazy and people return quickly to purchase it."
Unlike other national 'vitamin stores', Max Muscle Sports Nutrition store owners and employees become Certified Sports Nutrition Coaches...it's like consulting with a nutritionist one-on-one, and having the supplementation you need to reach your goals ready to sample, stack, and augment into your person life. The 'Legendary Max Muscle Experience' has positioned the company in Entrepreneur Magazine's 2012 Franchise 500. The products developed over these years of fueled growth keep the customers coming back.
For twenty years Max Muscle Sports Nutrition has been the leader in the sports nutrition industry, and is committed to improving the health of people from all walks of life. Team members – Certified Fitness Nutrition Coaches™ - are extremely knowledgeable and take the time with each client to pinpoint their health and fitness goals in order to find the best program, products and supplements for them to achieve those goals. Whether the goal is to lose weight, gain weight or dedicating oneself to a healthier lifestyle- Max Muscle Sports Nutrition is one business that is growing by helping others reduce… online at http://www.MaxMuscle.com Franchise opportunities available at http://www.MaxMuscleFranchise.com The myMaxMuscle online community is at http://www.myMaxMuscle.com