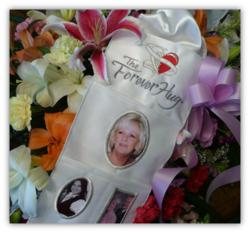 Comfort in knowing you can hug your loved one forever...
San Jose, CA (PRWEB) March 19, 2012
The Forever Hug™ Collection, Inc., a provider of customizable memorial products, announced today the official launch of the company, website and The Forever Hug Tribute Sash. The Forever Hug Tribute Sash is the company's first product in a collection of unique memorial keepsakes that is designed to be left with the loved one. The patent-pending design allows family members and friends to insert photos, messages and mementos in a sash that can be draped around the loved one as a symbolic forever hug.
"When we lose a loved one, although the spiritual person is no longer with us, the bond to the physical person remains," said Maureen Monterosso, Founder and President of The Forever Hug Collection, Inc. "The Forever Hug Tribute Sash can give great comfort as it provides a means for families and friends to personalize a tribute that will forever embrace their loved one with memories in life and love…a forever hug."
The beautifully designed sash has 20 photo frames and contains a pocket where messages and additional photos can be inserted. The satin-like fabric with embroidered shiny platinum frames captures light providing a stunning accent to photos. The versatile sash can be displayed with the loved one, draped over flowers on the casket (open or closed), around floral sprays and urns. The sash can also be framed and kept as a symbolic Forever Hug keepsake. The top layer may also be decorated using pens and crayons—a great way for children to leave their special message.
Closure is very important to allow us to heal. In some cases where we are not able to view our loved one before interment due to a tragic accident, or such as our fallen soldiers, the forever hug can offer some consolation by allowing the families another chance to embrace their loved one. "I am really excited about this product as it is the first of its kind and the versatility of The Forever Hug Tribute Sash is endless," continues Maureen Monterosso. "Everyone grieves or celebrates differently and this product is meant to be as special and unique as the loved one and their families. It comes from my heart and I hope it helps people during the most difficult time in their life."
About The Forever Hug Collection, Inc.
The Forever Hug Collection, Inc. offers unique, customizable memorial keepsakes through authorized funeral homes. The company is privately funded and is located in San Jose, CA. For more information on The Forever Hug Tribute Sash and for a list of Forever Hug Partners, please visit our website at http://www.theforeverhug.com.