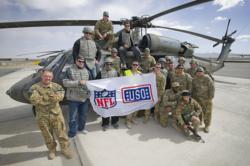 I'm thankful for the opportunity to visit our service men and women overseas, said Takeo Spikes. "They take an extraordinary amount of pride in protecting our country and I'm very grateful for their commitment. This experience has been amazing.
Arlington, VA (PRWEB) March 19, 2012
Seven-Day Tour Celebrated 46-Year USO/NFL Partnership and Marked the First-Ever USO Tour for the Football Quintet
Twitter Pitch: Jason Baker, @dhanijones, Alex Mack, @takeospikes51 and @ericwinston return from @the_USO/@NFL tour. See pix, http://bit.ly/dwGpLo!
The USO and NFL commemorated their 46 year partnership with a seven-day, two-country USO/Armed Forces Entertainment tour to Kyrgyzstan and Afghanistan March 2-9, 2012. Making the trek were Carolina Panthers punter Jason Baker, 11-year NFL veteran/Travel Channel host Dhani Jones, Cleveland Browns center Alex Mack, San Diego Chargers linebacker/two-time Pro Bowl selection Takeo Spikes and Houston Texans offensive tackle Eric Winston.
DETAILS:

During the tour, the group visited more than five military bases and lifted the spirits of more than 1,000 service men and women. Among some of the installations visited were Camp Stone, Camp Arena and Forward Operation Base Farah.
Sharing a personal connection to the military is Jones, whose parents both served in the U.S. Navy as a commander and anesthesiologist and Mack, whose father served in the U.S. Army and cousin in the U.S. Air Force.
A punter for the Carolina Panthers, Baker is one of the NFL's fastest running punters. In 2011, he generated a gross average of 42.7 yards with 19 punts inside the 20, five touchbacks and long of 56 yards on 66 punts.
Former linebacker for the Cincinnati Bengals, Jones is an 11-year NFL veteran. Whether Muay Thai fighting in Thailand, dragon-boat racing in Singapore or sailing in New Zealand he is now the host of Travel Channel's "Dhani Tackles the Globe."
Drafted as the 21st pick in the first round of the 2009 NFL Draft, Mack is a native of Santa Barbara, CA, and alum of the University of California - Berkley.
Named after Japanese Prime Minister Takeo Miki, which means 'Great Warrior,' Spikes is a linebacker for the San Diego Chargers and has authored more than 1,300 tackles, 19 interceptions and two Pro Bowl appearances.
An NFL offensive tackle, Winston graduated from the University of Miami in 2006 and signed on with the Houston Texans.
In 1966, the NFL teamed up with the USO and became the first sports organization to send a group of players to Vietnam and other parts of Asia to demonstrate the league's support for America's troops. Over the past four decades, NFL stars including TERRY BRADSHAW, LARRY CSONKA, FRANCO HARRIS, HOWIE LONG, DON MEREDITH, LYNN SWANN and JOHNNY UNITAS have visited service members on NFL-USO tours in locations such as Afghanistan, Bosnia, Iraq, Japan, Korea, Kuwait and Somalia.
In 2008, NFL Commissioner ROGER GOODELL, New Orleans Saints QB DREW BREES and New York Giants DE OSI UMENYIORA joined players on a USO trip to Iraq and Afghanistan.
Last year, GARY KUBIAK, JIM E. MORA, JIM L. MORA, KEN WHISENHUNT, MERRIL HOGE, MATT MILLIAN, and ANTHONY MUNOZ were among the NFL greats and coaches who visited troops around the globe to extend their thanks.
QUOTES:
Attributed to Jason Baker:
"I feel blessed to be able to go and share our appreciation directly with our service men and women in theater (Romans 12:8-21). It's great that the NFL and USO facilitate this so that we can draw further attention to the service and sacrifice that these men and women choose to make."
Attributed to Alex Mack:
"The USO tour is a great opportunity to show our appreciation to our military. I think it's really good for us to see what they go through and what they do. It's great for them to be able to see that people care about them. Then we can further understand how important their work is and just how hard their job really is."
Attributed to Takeo Spikes:
"I'm thankful for the opportunity to visit our service men and women overseas. They take an extraordinary amount of pride in protecting our country and I'm very grateful for their commitment. This experience has been amazing."
Attributed to Eric Winston:
"The USO tour has provided me a small glimpse of dedication and passion that our service men and women exude on a daily basis. Hopefully our visit will be uplifting for them and provide a small token of appreciation."
MULTIMEDIA:
USO Tour Photos: http://bit.ly/AnbJiC
USO Fact Sheet: http://bit.ly/yaebvo
USO Logo: http://bit.ly/9JHKWv
NFL Logo: https://uso.box.net/shared/rpb2osakfs
AFE Logo: http://bit.ly/bCGwld
###
About the USO
The USO (United Service Organizations) lifts the spirits of America's troops and their families millions of times each year at hundreds of places worldwide. We provide a touch of home through centers at airports and military bases in the U.S. and abroad, top quality entertainment and innovative programs and services. We also provide critical support to those who need us most, including forward-deployed troops and their families, wounded warriors and their families and the families of the fallen.
The USO is a private, nonprofit organization, not a government agency. We rely on the generosity of our volunteers and donors. In addition to individual donors and corporate sponsors, the USO is supported by President's Circle Partners: American Airlines, AT&T, Clear Channel, Kangaroo Express, Kroger, Lowe's, Northrop Grumman Corporation, Procter & Gamble, and TriWest Healthcare Alliance and Worldwide Strategic Partners: BAE Systems, The Boeing Company, The Coca-Cola Company, Lockheed Martin, and Microsoft Corporation. We are also supported through the United Way and Combined Federal Campaign (CFC-11381). To join us in this patriotic mission, and to learn more about the USO, please visit uso.org.