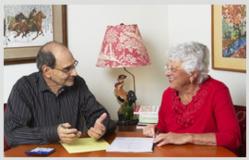 When you land in a nursing home, you are stripped of privacy, privilege and power. You are naked and defenseless.
New York, NY (PRWEB) March 19, 2012
Not everyone can afford to prepare for the future, especially in a down economy. Today's elderly are faced with Alzheimer's, Parkinson's, long-term debilitating illnesses that they and their family are often simply not prepared for. In his book "Naked in the Nursing Home," elder care expert and author Harold L. Lustig gives seniors ways to use Medicare and other programs to their advantage.
Lustig says of his clients, "Few people have the money to pay for health care that can cost $5,000 to $12,000 per month." Lustig is an expert in the field of elder care, and he coaches countless seniors each year on how, in his words, "to obtain long-term care without going broke."
Harold L. Lustig's passion for helping the elderly avoid a family financial crisis due to long-term care grew out of personal experience. His father, at age 78, informed Lustig that he had outlived his assets. Six years later, Lustig's mother became chronically ill. Already out of assets and living on Social Security and a miniscule pension, they struggled with Medicare, the hospital and the nursing facility for help and continuing care. Says Lustig, "Had I known then what I know now, my parents would have qualified for Medicaid and other financial help; their quality of life in the end would have been significantly better."
Harold L. Lustig and his brother did not see their parents' needs coming, and out of his own experiences and knowledge, he wrote "Naked in the Nursing Home: The Woman's Guide to Paying for Long-Term Care without Going Broke". The book presents tips, tools and strategies to help Seniors make smart decisions regarding long-term care for themselves and/or their loved ones, ways to plan and pay for it and how to avoid serious financial mistakes that can destroy health, happiness and a family's financial security.
Naked in the Nursing Home is available from booksellers everywhere, on Kindle, Nook and other ebook formats.
Harold L. Lustig is a nationally recognized authority on financial, estate, and long-term care planning for elders and their families. He is a Chartered Life Underwriter (CLU) and a Chartered Financial Consultant (ChFC). As president of Estate & Elder Planning Associates, Lustig has helped people with such issues as wealth preservation, asset management, increasing income while reducing taxes, estate planning, and paying for long-term care without going broke. Lustig has been interviewed and quoted widely in the national press, and is a member of the National Speakers Association.
Blooming Twig Books, an independent publisher based in New York City and Tulsa, Oklahoma, publishes award-winning books that matter, from self-help to children's fiction. Contact the publicity department for author bookings, sample and adoption copies.