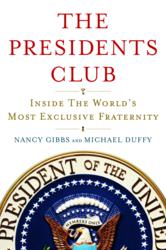 St. Louis, MO (PRWEB) March 26, 2012
The St. Louis County Library Foundation's 'Buzz' Westfall Favorite Author Series is pleased to present journalist and presidential historian Nancy Gibbs for a discussion and signing of her new book "The Presidents Club: Inside the World's Most Exclusive Fraternity." The event will take place at Library Headquarters (1640 S. Lindbergh Blvd.) on Thursday, April 26, at 7:00 p.m. The program is free and open to the public. Books will be available for purchase at the event from Pudd'nHead Books.
TIME magazine executive editor Nancy Gibbs presents the first history of the private relationships among modern American presidents—their backroom deals, rescue missions, secret alliances, and enduring rivalries.
The Presidents Club, established at Dwight Eisenhower's inauguration by Harry Truman, is a complicated place: its members are bound forever by the experience of the Oval Office and yet are eternal rivals for history's favor. Among their secrets: How Kennedy tried to blame Eisenhower for the Bay of Pigs. How Eisenhower helped Reagan win his first race in 1966. How Nixon conspired with Johnson to get elected and then betrayed him. The letter from Nixon that Clinton rereads every year. The unspoken pact between a father and son named Bush. And the roots of the rivalry between Clinton and Obama.
The book will change the way we think about the office of the president and the men who have shaped our politics over the last half century. Tom Brokaw says of the book, "Nancy Gibbs [has] taken us inside one of the most powerful and unusual families in American life—the brotherhood of former presidents of the United States. Political junkies, historians, and main street citizens will find the tales of friendship, envy, conspiracy, competition and common cause irresistible."
Nancy Gibbs is Executive Editor of TIME magazine and co-author with Michael Duffy of the bestseller "The Preacher and the Presidents; Billy Graham in the White House." Named by the Chicago Tribune as one of the ten best magazine writers in the country, she is the author of more than 150 TIME cover stories.
The program with Nancy Gibbs is a St. Louis County Library 'Buzz' Westfall Favorite Author Series presentation. The Westfall series features authors of politics, current issues, history, and sports. The series is co-sponsored by Jack Dubinsky and Sons; McMahon Berger; Sachs Properties; Brown Smith Wallace LLC; Royal Banks of Missouri; St. Louis Business Journal; Midwest Library Service; The Booksource; Ivey-Selkirk Auctioneers; S.M. Wilson & Co.; Arthur J. Gallagher and Co.; and Stifel, Nicolaus.
Program sites are accessible. Upon two weeks notice, accommodations will be made
for persons with disabilities. Contact St. Louis County Library by phone 314-994-3300 or visit http://www.slcl.org.