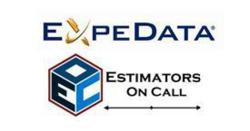 Our acquisition of EOC allows ExpeData to integrate one of the best mobile data capture platforms with a fully optimized claims estimation process for unsurpassed efficiency
Miamisburg, OH and Denver, CO (PRWEB) March 20, 2012
ExpeData®, an innovative software company and a global leader in natural input technologies, announced today that it has acquired Denver-based Estimators On Call Services, Inc. (EOC), a leading provider of professional estimating services for the restoration industry. Financial terms were not disclosed.
Founded in 2009, EOC provides intelligent estimating services utilizing a consistent and complete process with multi-point audit and review, proprietary tools and techniques, and industry-leading tools such as EagleView™ aerial measurements and the Xactimate™ estimating system. EOC offers decades of experience as contractors and adjusters to the roofing and claims industries and specializes in providing on-time, accurate estimates for residential and commercial losses.
"Our acquisition of EOC allows ExpeData to integrate one of the best mobile data capture platforms with a fully optimized claims estimation process for unsurpassed efficiency," said Paddy Padmanabhan, CEO, ExpeData. "The depth of industry experience that EOC brings will play a critical role in accelerating the adoption of our solutions in the restoration and claims services markets."
"Joining forces with ExpeData allows us to offer cutting-edge, technology-enabled estimating and claims processing services and significantly enhances our ability to penetrate the market," said David Hickey, President, Estimators On Call Services, Inc. "Leveraging the innovative mobile data capture platform provided by ExpeData enables us to deliver even greater convenience, accuracy and process efficiencies for our customers."
EOC will be integrated into the ExpeData business headquartered in Miamisburg, Ohio. Post acquisition, David Hickey will continue to lead and drive the value of EOC services at ExpeData.
ExpeData is owned by Dayton, Ohio-based Myrian Capital. The acquisition of EOC complements Myrian Capital's previous investments in workflow optimization technologies that include ownership of ExpeData®, a global leader in natural input technologies; Vision Objects, provider of MyScript, the most advanced handwriting recognition software in the market; significant shareholdings in Sweden-based XMS Penvision, an experienced digital pen and paper platform provider that offers the award-winning Penvision Formidable; and significant shareholdings in publicly-held Anoto Group, pioneering leader of digital pen and paper technology.
About ExpeData®
ExpeData, an innovative software company and global leader in natural input technologies, provides an end-to-end software platform that automates the collection of natural input including handwriting at the point of entry. Information captured with tablets or digital pens is immediately converted to digital data and seamlessly integrated to backend systems. Straight-through processing eliminates cycle time delays, resulting in unsurpassed workflow optimization and significant cost savings. EDW solutions are used across the globe, delivering value in multiple industries. To learn more, visit http://www.expedata.net.
About Estimators on Call
Estimators On Call Services, Inc. is a service company that combines consulting and technology to bring a unique solution to the restoration industry. With training, scope writing, and project management as the main focus, EOC provides a repeatable, scalable process for contractors and insurance companies alike. EOC provides on-time, accurate estimates using the Xactimate™ estimating system, proprietary tools, and EagleView® aerial measurements. For more information, contact Estimators on Call at (877) 407-4044 or at http://www.estimatorsoncall.com.