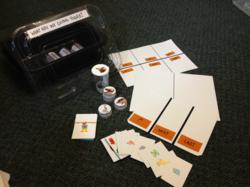 There definitely needs to be more products on the market that are effective and fun but also affordable and accessible to teachers and parents.
San Jose, CA (PRWEB) March 20, 2012
Krystal Le, a sophomore at Stanford University recently worked with RAFT to develop new hands-on educational activity kits for kids with autism. The project - 'Spin a Story', targeted building RAFT Activity Kits to help stimulate the student's tactile senses and effectively communicate their needs. Le's inspiration for this project came from her experiences with her younger autistic brother. "My brother is incredibly brilliant, but he has difficulty communicating even basic thoughts," she said. "Thus, coming to Stanford, I knew I really wanted to design a product that would help him and children facing similar challenges, express themselves. Working on a project with RAFT has been a wonderful first step toward realizing that dream."
Le worked on this project as part of her winter quarter 'Perspectives in Assistive Technology' class. The Stanford course, taught by instructor David Jaffe, encourages students to learn about the design and use of technology that benefits seniors and people with disabilities. "These are low technology projects that are sometimes more successful than high-tech", says Jaffe. "As this is a course rather than a company, the priority is on the academic engineering process but students do come up with prototypes that can later become marketable products!"
Based on her research on educational tools for kids with special needs, Le had two objectives: one to build effective hands-on learning tools and second, make them inexpensive so it's accessible for a wider audience. "It's remarkable how expensive educational tools for students with autism can be. I have found flash card sets that cost $400 dollars! There definitely is a need for more products on the market that are effective and fun but also affordable and accessible to teachers and parents." This Mechanical Engineering student worked with RAFT and Hope Technology School to brainstorm activities that would meet these requirements and appeal to the needs of the students.
Her final prototype using RAFT materials provides several simple ways for students to express themselves. A mixture of three activities – sequencing, storyboarding and sorting – the 'Spin a Story' activity kit encourages students to initiate their own thoughts with a variety of textual and visual prompts. The materials used in the kit include magnetic sheets, stickers, plastic bottle caps, and blank flashcards – materials that are commonly found and easily upcycled.
Resource Area For Teaching's (RAFT) main focus is to inspire, engage and educate all children through the power of hands-on teaching. RAFT is doing this today with some 10,000 educators, who teach both inside and outside the classroom. RAFT's products (Activity Kits & Idea Sheets), services (professional development and mentoring) and low-cost teaching supplies enrich and improve the education of over 825,000 young people each year.