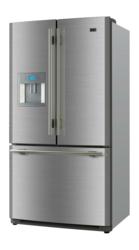 "The HB21FC75NS French door refrigerator is ENERGY STAR® qualified and counter-depth to align seemlessly with surrounding cabinets," said Chuck Bryant, vp of refrigeration products for Haier America.
New York, NY (PRWEB) March 23, 2012
A thorough refrigerator cleaning is an integral part of any spring cleaning ritual, but one that's easily neglected. The closed doors create an out-of-sight-out-of-mind effect, and last night's leftovers can quickly become last month's leftovers. The task may seem daunting; especially with a large capacity model like one of Haier's stainless steel French door refrigerators. With the right approach you will be done before you know it, and a refrigerator deep clean is a fantastic opportunity to institute good habits that will keep the family fed in the safest, healthiest way possible.
"The HB21FC75NS 20.6 cu. ft. French door refrigerator is ENERGY STAR® qualified and counter-depth to align seemlessly with your surrounding cabinets for the perfect combination of energy efficiency and a sophisticated built-in look," said Chuck Bryant, vp of refrigeration products for Haier America.
Step 1: Unplug The Refrigerator Before Cleaning and Remove the Contents
First, take everything out. A cooler and ice packs can store sensitive items in the meantime. Aim to clean right before grocery shopping and you will likely have less inside to begin with.
"When in doubt, throw it out" is a good rule of thumb. Discard anything obviously spoiled or past its due date, but remember that spoiled food might not have an off-smell or appearance. What about those condiments that have been hanging out for years? Shelf-life varies from two months to a year, so do your research and handle individually. Shelf-life for a few common items: Ketchup 6 months, Mustard 12 months, Pickles 2 months. Empty the containers of condiments being tossed and rinse them for recycling.
Step 2: Clean the Inside
-Gently wash easily removable components, such as plastic drawers, bins, and wire shelves, in the sink with mild dish soap. Haier's French door refrigerator features adjustable door storage bins and clear, humidity control crisper drawers. Dry thoroughly and set aside. During cleaning do not spray or rinse the fridge with water or liquids, as it could harm electrical parts.
-Wipe down the inside surfaces with a damp washcloth—warm not hot, as the temperature change can weaken glass shelves like those in Haier's HB21FC75NS—and gentle cleaning solution. Follow the manufacturer's instructions regarding cleaning solutions, but stay away from chemical cleaners, which can leave behind fumes and residues that affect food quality. A solution of ¼ cup of baking soda to 4 cups of warm water makes a great natural and inexpensive cleanser. Where more powerful deodorizing is needed, a 1-to-1 solution of warm water and distilled white vinegar works well. Don't forget to wipe down the rubber gasket around the door where food crumbs and residue can hide out. The HB21FC75NS is one of a number of ENERGY STAR® qualified refrigerators from Haier, an important distinction, especially for the one appliance in your house that is running all the time. To ensure you continue to get the best energy efficiency, be sure to check periodically that the door gaskets are maintaining a tight seal. Dry interior surfaces and return shelves and removable drawers to the refrigerator.
-For the freezer: Follow the same steps but be prepared to work more quickly. You may use slightly hotter water to get at tough stains or sticky patches. Anything that is longer recognizable, or with visible freezer burn should be thrown out.
Step 3: Organize
Take inventory of the remaining food and devise a system of organization. Haier's French door refrigerator features adjustable shelves, giving you maximum flexibility to configure them in the way that works best to fit the groceries your family typically eats.
Be sure to label containers clearly with names of foods, and going forward, the date of purchase. Try not to pack items together too tightly. There should be some room for air to circulate in order to maintain proper temperatures. Keeping a running list of the refrigerator contents nearby and visible will help avoid overstocking it in the future.
Below are a few food storage tips based on the perishability of different foods:
-Lower shelves are generally coldest, and great for items that spoil quickly, like dairy, eggs, meats, and fish. Keeping raw meat on the bottom shelf means leaks won't drip onto other items.
-Middle shelves are the most accessible and best for foods you want used up quickly, like leftovers. Encourage healthy eating habits by keeping non-leafy vegetables and fresh fruit in plain sight.
-Make use of item specific storage units: Features like the full-width deli-tray and wine rack on the HB21FC75NS can make life easier by providing the perfect spot for items that it's sometimes difficult to find a place for, like large sheets cakes and tall wine bottles. The dividers in the bottom-mount drawer style freezer can be adjusted to break up the space in a way that suits your needs as well. Also consider getting inexpensive plastic bins to keep smaller items that tend to get lost such as half empty bags of frozen fruits and veggies.
-Door storage bins are ideal for condiments and soft drinks because these items are better suited to withstand the temperature fluctuations caused by frequent opening and closing of the refrigerator.
Step 4: Wipe down the outside, including the handles.
Use a soft cloth and the same solution used to clean the inside. When cleaning outside, make sure also vacuum at the bottom front plate to remove dust lint collected over the time. To keep a stainless steel door like the one on Haier's French door refrigerator looking new, use a microfiber cloth slightly dampened with distilled white vinegar, making sure to follow the direction of the grain. Be careful when cleaning around the electronic display and controls and remember to keep on schedule with changing the filter on the external water dispenser to ensure fresh, clean water to go with a now spic-and-span refrigerator. To finish up, place an open box of baking soda in the refrigerator and another in the freezer compartment to absorb odors for up to six months.
About Haier
Based in the landmark Haier Building in midtown Manhattan, Haier America is a division of the multinational Haier Group, the world's #1 major appliance brand as ranked by Euromonitor International 2011, and a global leader in consumer electronics. Haier employs more than 70,000 people around the world and distributes products in more than 165 countries and regions with global revenues reaching $20.7 billion in 2010. Haier is an Official Marketing Partner and the Official High Definition Television of the NBA, and proud supporter of the National Parks Conservation Association. For more information, please visit http://www.haieramerica.com. You can also become a Fan of Haier America on http://www.facebook.com/Haieramerica or follow Haier America via Twitter @haieramerica.