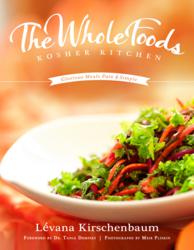 I attribute my devotion to fresh, real ingredients to my mother, whose mantra, 'the cure is in the pot,' fueled my philosophy of cooking as a means to healing
New York, NY (PRWEB) March 22, 2012
Diet can have a tremendous effect on our health. Some foods cause inflammation, other foods fight inflammation. And foods that are healthy for us can be made into superb culinary delights if we have a master mentor and guide like Lévana Kirschenbaum, the driving force and genius behind the gourmet, upscale, kosher dining experience. Her signature restaurant, Lévana, on New York's Upper Westside was a favorite dining spot for thirty years. In her new, updated and revised cookbook, The Whole Foods Kosher Kitchen: Glorious Meals Pure and Simple (March 2012), Lévana takes healthy cooking to a whole new level. You don't have to be Jewish or keep kosher to appreciate Lévana's healthy, whole foods approach to eating. She traces her devotion to fresh, real ingredients to her mother, whose mantra, "the cure is in the pot," fueled Lévana's philosophy of cooking as a means to healing. The recipes in The Whole Foods Kosher Kitchen prove that healthy eating never has to mean boring or bland.
With this cookbook, Lévana embarked on her most ambitious journey yet: to present a beautiful, comprehensive compilation of her life's work, the culmination of thirty years of developing simple, healthy and delicious recipes, her Magnum Opus as she calls it. The hundreds of dishes she shares in the book are at once economical and easy to prepare, creating the must-have cookbook for anyone looking to create delicious, health-promoting meals.
In addition to her native Moroccan cuisine, Lévana recipes include Indian, Italian, French and Chinese cuisine. The book includes three comprehensive indexes:

A GENERAL INDEX, with more than 350 recipes
A GLUTEN-FREE INDEX, with natural and delicious gluten-free adaptations of more than 250 dishes
A PASSOVER INDEX, with more than 250 Passover-friendly recipes
Generously illustrated with beautiful full color photographs, The Whole Foods Kosher Kitchen also provides valuable information about processed and packaged foods and how that affects their health quotient. She also provides informative introductions for each recipe and many have sensible adaptations, according to each cook's personal tastes and preferences. There is also an extensive chapter on eating and shopping policies.
The Whole Foods Kosher Kitchen goes beyond the traditional scope of a cookbook, and shares a natural, sensible, and wholesome way of life; it belongs in every household, Kosher or not, just within reach, sure to be used again and again: a cherished, useful gift for any occasion.
ABOUT THE AUTHOR
For more than thirty years, Lévana Kirschenbaum has been teaching people how to cook healthy and nutritious meals. When she opened her eponymous restaurant with her husband and two brothers-in-law in the late 1970s on New York's Upper West Side, (which recently closed after thirty years in operation), all of them were perfectly aware they were facing a hard sell: introduce fine kosher dining to the Kosher public, who until then was content either eating at home or grabbing a bite in the rare joints that served institutional old world treats. The general prediction was that the presumptuous idea would fall flat on its face. Undaunted by being the trailblazers of the trend, Lévana and her partners surrounded themselves with the best chefs, developed the most delicious dishes and waited patiently until the idea of upscale kosher caught on. The rest, as we all know, is history: The kosher food and wine market has experienced a veritable explosion and occupies pride of place among the most prestigious competitions. Many luxury kosher restaurants have opened and thrived since Lévana's pioneering days, bearing out the dictum that imitation is the greatest form of flattery. Lévana still happily gives cooking demos regularly in her New York classroom and across the country. She is also the author of Lévana's Table: Kosher Cooking for Everyone, Lévana Cooks Dairy-Free!, and a book-DVD set based on her demo series called "In Short Order." Visit her website, http://www.LevanaCooks.com.
TO REQUEST A REVIEW COPY OR SCHEDULE AN INTERVIEW CONTACT:
Trina Kaye – The Trina Kaye Organization
310-915-0970 / TrinaKaye(at)tkopr(dot)com
KALE, BEET, AND SEAWEED SALAD
Makes 8 servings
With this dish, I am doing nothing more than group the veggies many of us wouldn't imagine eating raw. The result is a real triumph, so get ready to adopt them wholeheartedly into the family! You would enjoy beets and turnips much more often, even raw, if only you would grate them very fine in a food processor. The salad will keep well a good couple of days.
1 bunch kale, tough stems removed, leaves cut into very thin ribbons
1 large beet, red or golden, grated very fine (food processor fine shredding blade)
6 scallions, sliced very thin
¼ cup hijiki or other seaweed: wakame, arame, etc. (health food stores), soaked in hot water to cover
½ cup sesame or other seeds (chia, flax, hemp, etc.), toasted
1 cup Chinese green tea dressing (recipe follows)
Place all salad ingredients in a mixing bowl. Pour the dressing over the salad and toss. Store refrigerated in glass jars.
Variations:

Substitute other greens for the kale—mustard, collard, turnip, spinach, even nappa cabbage.
Substitute rutabaga (yellow wax turnip), daikon, carrots, or zucchini for the beet.
Throw in diced avocado.
Throw in some sprouts.
Throw in some chopped toasted cashews or peanuts.
Use any other kind of seaweed—nori, kelp, wakame, arame, etc.
Throw in some cooked lentils, brown rice, thawed frozen corn kernels, or any grain you have on hand and turn it into a complete main course.
CHINESE GREEN TEA DRESSING
The magic of Asian ingredients! With such intense and clean flavors, a little goes a long way. You will love
this dressing not only with many salads, but also drizzled on grilled fish, tofu, or chicken.
1 2-inch piece fresh ginger, peeled
½ cup toasted sesame oil
½ cup strong green tea (or red or white), decaf OK
2 tablespoons honey, agave, or maple syrup
1/3 cup soy sauce or tamari
1/3 cup unfiltered apple cider vinegar, or brown rice vinegar
Dash of bottled hot sauce, or to taste
Grind the ginger finely in a food processor. Add all remaining ingredients and process until smooth. Makes about 2 cups. Store refrigerated in a glass jar.
CHICKEN WITH APPLES
Makes 8 Servings
The modest apple is the star of this rustic and delicious dish. Hard cider gives the dish its originality and
is easy to find, but just in case you can't secure it, use 3 cups natural apple cider.
3 tablespoons olive oil
4 Granny Smith (green) apples, peeled and cut in wedges
2 tablespoons sugar or Sucanat
Zest of 2 lemons
3 leeks, sliced
8 serving pieces chicken—16 pieces total: legs, thigh, half breasts, skins on
2 teaspoons turmeric
1 bottle hard cider
2 tablespoons cinnamon
Freshly ground pepper to taste
3 tablespoons Calvados, applejack, or slivovitz
Heat the oil in a heavy, wide-bottom pot. Add the apples and sauté until golden. Add the sugar and lemon peel, and
cook 2 more minutes until caramelized. Remove the mixture and set aside.
Place the leeks, chicken, turmeric, cider and cinnamon in the pot, and bring to a boil. Reduce the flame to medium and cook covered for 1 hour. Add the reserved apples, ground pepper and Calvados, and cook a few minutes more until just heated through.
Transfer the chicken and apples to a platter and check the sauce. If it is too thin, reduce on a high flame 2 to 3 minutes until syrupy. Pour over the chicken and serve hot, with rice, puréed vegetables, or noodles.
Recipes may be reprinted with the following credit:
Excerpt from THE WHOLE FOODS KOSHER KITCHEN: Glorious Meals Pure & Simple
By Lévana Kirschenbaum / March 2012
FOR MEDIA INQUIRIES AND TO REQUEST REVIEW COPIES CONTACT:
Trina Kaye – The Trina Kaye Organization
310-915-0970
TrinaKaye(at)tkopr(dot)com
http://www.TrinaKaye.com