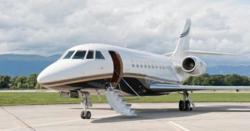 We aim to respond as quickly as possible to our client's needs
London, UK (PRWEB) March 21, 2012
Private Jet Central has introduced a number of improvements to one of its fastest growing routes. From the 1st of April 2012 business users flying from London to Abu Dhabi will be able to choose from a much wider range of aircraft and more flexible booking practices. The introduction of several larger jets including the Falcon 2000 and the Gulfstream V is a direct response to customer demand.
The MD of Private Jet Central stated that "We aim to respond as quickly as possible to our client's needs". He went on to add "There are a number of other routes to the Middle East which we will look to expand upon in the near future".
Business ties between the UK and the United Arab Emirates have never been stronger. The UAE is the UK's largest export market in the Middle East and North Africa with trade estimated at around £3.9 billion each year. There is a firm commitment in place to increase bi-lateral trade between the two nations. "The UK and the UAE are committed to increasing bilateral trade to £12.5 billion by 2015" Rt Hon Lord Mandelson. A recent visit by Phillip Hammond the Secretary of State for Defence further strengthened both defence and trade ties between the two countries. His visit concluded on the 14th of March and included trips to al Dhafra airbase and a tour of the al Yah Satellite Communications Company.
The effect of closer business ties between the UK and UAE has been clear at Private Jet Central. An increase in demand for flights as well as for larger jets such as the Falcon 2000 has led to the introduction of several additional aircraft to the route. Business users wishing to fly private jet from London to Abu Dhabi now have a wider choice of jets to choose from including the Falcon 2000 and Gulfstream IV and V. They can also benefit from a new streamlined booking service on the Private Jet Central website.
Private Jet Central is a global jet charter company with offices in the United Kingdom, United States and the Middle East. Founded in 2001 they offer a range of jet charter services to business and pleasure users in the UK and Europe. With over 10 years' experience in the jet charter industry they are ideally placed to meet their client's requirements. More information on the full range of services offered by Private Jet Central is available from their website at http://www.privatejetcentral.com/ and also by contacting any of their offices by phone or via e-mail.