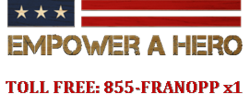 Not only does 'Empower A Hero' offer financial rewards to our brave men and women, but by supporting small business ownership, it also helps drive the growth engine for our economy
Cleveland, OH (PRWEB) March 21, 2012
Retired or transitioning military and their spouses can now save on acquiring and starting a qualified franchised business with the newly released 'Empower A Hero' program offered by worldwide franchise holding company, Merrymeeting Group, Inc. (MMG), based in Cleveland, Ohio. 'Empower A Hero' discounts are available for Inspect-It 1st Property Inspection, Pro Energy Consultants and MTOclean, Residential and Commercial Cleaning, and range from 10-33% off standard initial franchise fees.
"While governmental programs such as 'Hire a Hero' are great, we wanted to take that a step further by advancing business ownership in our Country. Not only does 'Empower A Hero' offer financial rewards to our brave men and women, but by supporting small business ownership, it also helps drive the growth engine for our economy," stated Kylene Golubski, President of MMG's Home Services Franchising Group.
In-depth information about each franchise opportunity is available at the Empower A Hero website. With three diverse industries and investment levels to choose from, candidates can select the business that best suits their interests and financial capacity, and even own multiple businesses. MMG has been working with RecruitMilitary.com to promote the program, and expects to award at least twenty franchises under the program with an estimated total value exceeding $200,000.
"We have been amazed by the response thus far, and by the caliber of individual we are attracting with this program. These are highly skilled, driven and hard-working people with leadership ability and a teamwork mentality that makes them an exceptionally great fit with the franchising model," states Golubski.
About Merrymeeting Group, Inc.
Merrymeeting Group (MMG) is a Cleveland based firm founded in 2001, focused on the acquisition and development of intellectual property driven businesses in the franchising, technology and business services sectors. Collectively, MMG supports more than 2,000 franchised units worldwide. The Home Services Franchising (HSF) Group specializes in awarding franchises that primarily service residential clients, however each does also have a commercial element. The HSF Group franchises include Inspect-It 1st (property inspection), Pro Energy Consultants (energy efficiency testing) and MTOclean (residential and commercial cleaning). To learn more, please visit the Merrymeeting Group website.