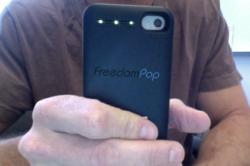 "This is the first bow we're shooting directly at AT&T and Verizon to make the rapidly growing mobile broadband market more competitive. Our case will liberate iPhone users and force carriers to put users first or lose them to competitors."
Los Angeles, CA (PRWEB) March 21, 2012
FreedomPop, the disruptive new wireless broadband internet company backed by Niklas Zennstrom, today announced its new iPhone broadband case that gives iPhone users high speed 4g wireless internet access free. The case circumvents primary network carriers including AT&T and Verizon and gives its users access to FreedomPop's mobile broadband service without data throttling currently imposed by major carriers.
The iPhone case will be available for all iPhone 4 models when FreedomPop launches in 2012. "This device enables users to get free data on their iPhone and circumvent the oligopolistic mobile services providers" said Tony Miller, FreedomPop's VP of Marketing. "This is the first bow we're shooting directly at AT&T and Verizon to make the rapidly growing wireless broadband internet market more competitive. Our case will liberate iPhone users and force carriers to put users first or lose them to competitors" added Mr. Miller.
Whether on a mobile device or at home, FreedomPop will offer disruptive retail broadband internet, providing free, flexible, high-speed wireless internet access to millions of Americans. Unlike other services with free promotional offers, FreedomPop will provide real free broadband with no gimmicks.
FreedomPop will initially use Clearwire's 4G mobile broadband network though an additional partner network will be announced before its launch. Although a specific launch date has not been announced, FreedomPop is committed to launching in 2012 to over 270 million people.
Founded in 2011, FreedomPop is building a new wave telecom company. Its aim is to provide disruptive wireless internet services to all Americans and ensure that no one is left off the "connected grid." FreedomPop's initial service will launch in 2012. Visit http://www.FreedomPop.com for more information.