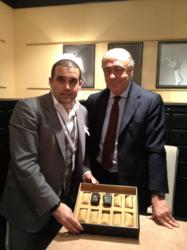 This is not a watch—it's a revolution in the Swiss watch industry
New York, NY (PRWEB) March 21, 2012
Haute Time, the ultimate resource for luxury timepiece aficionados, is flooded with new content from Basel World 2012. The latest of which is footage of an exclusive interview with Fawaz Gruosi of de Grisogono. Haute Living Co-publisher and Haute Time curator Seth Semilof met with Gruosi to explore the celebrated brand's newest timepieces as well as some that have never before been seen on Haute Living or Haute Time.
Amongst the spectacular pieces revealed was the ladies' Tondo Tourbillon Gioiello. "We had so much demand from the ladies," said Gruosi. "They would love to have tourbillon watches, and they do exist for the ladies, but they're not really styled for females." The de Grisogono Tondo Tourbillon Gioiello embodies a soft feminine shape and is detailed with sparkling stones to enhance the ladylike aesthetic.
The spectacular and supremely complicated Meccanico dG marks an important milestone in the watch industry and adds to the already leading reputation of de Grisogono. "This is not a watch—it's a revolution in the Swiss watch industry," Gruosi said of the piece. "It's digital, but mechanic. It has no battery, nothing else. Nobody spoke about digital mechanic watches; it is totally new." With 651 pieces inside, the watch neither works like nor looks like anything the industry has seen before.
Gaining an inside look at the industry's star timepieces directly from the company CEOs demonstrates the respect and passion Haute Time reserves for luxury watches and their corresponding brands. Access Gruosi's full tour of exquisite timepieces and explore the many wonders of Basel World 2012 at http://www.HauteTime.com.
About Haute Time
Haute Time curators realize that luxury watches are more than style statements; they're representative of an individual's personality, aesthetic and attitude. The site features the most recent news in all things time, including new releases from the top brands, interviews with those helming these upscale watchmakers and a watch locator, which provides site visitors with authorized retailers nearby to them. Hautetime.com is frequently revised to reflect the latest in news, collections and brands, including Ulysse Nardin, Bell & Ross, Omega and beyond. Our experts regularly review the latest pieces and happenings in the market, including updates from Patek Philippe and Audemars Piguet.
# # #
For more information, please visit: http://www.hautetime.com