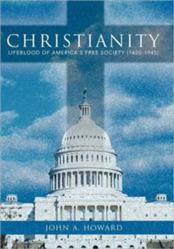 Rockford, IL (PRWEB) March 22, 2012
In the new book Christianity: Lifeblood of America's Free Society (1620-1945) (published by CrossBooks), John A. Howard takes a look at the importance of Christianity throughout American history.
According to Howard, the teaching of American history has given ever-dwindling attention to the founding of the United States and its phenomenally successful development. "That failure to acquaint new generations with their proud heritage is appalling," he says.
For most of the American populace, God, family and patriotism were of fundamental importance. All three of those commitments require the individual to subordinate his needs and desires to obligations of a higher order. Cooperation, friendliness, helpfulness and sacrifice are byproducts of those core values. It is because those values prevailed among Americans in World War II that the troops and the people on the home front performed so well that they earned the designation of the "Greatest Generation."
Each chapter in Christianity is followed with a number of supplementary quotations that Howard has gathered over his 50-year career. These entries will prove especially helpful to clergy in preparing their sermons.
Howard challenges readers to look back at the age of Christendom that the country was founded upon and resurrect their faith in the Lord.
About the Author
John A. Howard returned from World War II service in the First Infantry Division with two Silver Stars, two Purple Hearts and a commitment to use his career to help spread understanding of the great blessings of America's free society which from its beginnings was inspired and shaped by the teachings of Christianity. In 1955, he was named executive vice chairman of President Eisenhower's Committee of Government Contracts overseeing its work of opening jobs to qualified minority applicants. In 1960, John was called to be president of Rockford College. John and his wife Jan have four children and nine grandchildren. This is his eighth book.
CrossBooks, a division of LifeWay Christian Resources of the Southern Baptist Convention, is a Christian publishing imprint committed to bringing more Christian voices into the publishing industry. Established authors, first-time authors, and authors anywhere in between can meet their goals and fulfill their vision for their books by publishing with CrossBooks. CrossBooks' innovative style of publishing blends the best of traditional and self-publishing. While our authors contribute monetarily to cover the cost of publishing, we maintain a strict moral and quality standard that every manuscript must meet for us to publish. For more information on publishing your Christian book with CrossBooks, log on to crossbooks.com or call 1-866-879-0502.