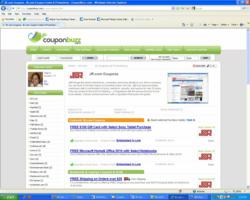 We believe savings like this are one reason our new JR.com coupon section is proving so popular.
Houston, TX (PRWEB) March 21, 2012
Earlier today CouponBuzz.com announced a JR.com coupon that grants site visitors $50 off select HP Monitors. The coupon is valid now for a limited time at JR.com, an online electronics and computer retailer with a well-established reputation for reliability and impeccable customer service.
"At CouponBuzz, we try to make sure our site visitors consistently have access to coupons that are capable of dramatically reducing the retail price of big-ticket electronics items," said Justin Bowen, a spokesperson at CouponBuzz.com. "Offers like the latest JR.com coupon for $50 off HP monitors perfectly fit the bill. We believe savings like this are one reason our new JR.com coupon section is proving so popular."
The featured JR.com coupon links consumers to savings via an instant rebate on premium HP monitors. The monitors available for the special offer range in size from 20 inches to 27 inches, and most offer LED backlighting technology. With 1920x1080 full HD resolution, these monitors are guaranteed to enhance the visual experience for every user. Streaming movies, watching internet TV, or catching a sports highlights video will never be the same again. The HP monitor is also formatted for maximum connectivity and convenience, boasting DVI-D, HDMI and VGA ports.
Gone are the days of a desktop-hogging monitor whose cumbersome bulk dominated a working area. The ultra-slim design of these premium HP monitors maximizes user desk-space. At only 1" deep, these flat-screens require less width than a standard photo frame. Easily rotated to share viewing or allow the user to switch positions, the monitors also feature enhanced tilt adjustment and the ability to slide from left to right. HP monitors are also light enough to be easily transferred to alternate surfaces when necessary.
In a nutshell, these sophisticated HP monitors are perfect for internet shoppers looking for a new monitor with enhanced capability or thinking about adding a second monitor to streamline productivity. The link to the JR.com coupon for $50 off these HP monitors can be found in the JR.com section of CouponBuzz.com at http://couponbuzz.com/jr.com-coupons.html.