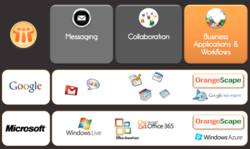 While Organizations moved Email to Google & MS Exchange, the real thorn in Enterprise Architecture strategy has been around Domino Applications. OrangeScape provides the perfect fit for Domino Apps on both Google & Microsoft platforms.
Chennai, India (PRWEB) March 27, 2012
OrangeScape, a Global 10 PaaS provider, announces that they have addressed the problem of migrating Domino Applications by providing a Visual Development platform on the public cloud of customer's choice, in this case - Google or Microsoft. OrangeScape's Visual, Drag-and-drop, modeling based Development Environment provides the perfect nest for Lotus Domino type of applications on the cloud. Even better, OrangeScape also offers the seamless integration and end-user experience on both Google and Microsoft platforms.
On Lotus Notes Migration in large Enterprises, Ashish Bhagwat - Vice President at OrangeScape, said, "Organizations have always wanted to move away from the legacy of Lotus for various reasons, including the ongoing costs and outdated technology. While they moved Emails to Google and Microsoft Exchange, the real thorn in the Enterprise Architecture strategy has been the question around Domino Applications. OrangeScape provides just the perfect alternative for Lotus Domino on both Google and Microsoft platforms. We hope that companies would be able to now overcome this hurdle in technology refresh, with help of OrangeScape."
Lotus Notes has been the backbone for messaging infrastructure of large enterprises for nearly two decades now. But, with the advent of cloud, the migration away from Lotus Notes to Google or Microsoft platform has accelerated. Google Apps and Microsoft 365 present themselves as unified platform alternative for enterprise IT leaders looking to migrate from the Lotus platform to Cloud.
At first glance, it's clear that both of these platforms are intrinsically strong on Messaging and Collaboration. However, large enterprises with extensive Lotus Notes deployment typically have hundreds of Domino applications that play a key role in keeping the enterprise running smoothly. These applications are developed by power users and Lotus administrators using the visual tool Domino Designer over the years. Migration from Lotus to Google or Microsoft starts with email, but remains incomplete and painful until Domino Applications are also moved.
To make the Lotus Notes Migration efficient, OrangeScape offers various options to ensure smooth transition path through a combination of Discovery approaches and serviceability through arrangements with leading Enterprise IT Service providers globally.
You can learn more by downloading this 3 min capsule on Lotus Notes Migration to Cloud, courtesy OrangeScape.
You can also download this detailed Free White Paper on Moving Lotus Domino Applications to Cloud.
About OrangeScape
OrangeScape is a rare breed of technology company founded in 2003 with customers and partners in USA, India, UK & Europe. OrangeScape is one of the Global 10 Cloud Platform-as-a-Service providers featured in PaaS reports of Gartner and Forrester. OrangeScape provides modeling driven visual development environment for creating business applications and can be deployed on major public cloud platforms like Google App Engine or Microsoft Azure or on private cloud environments. OrangeScape has a marquee customer list comprising United Biscuits, India Infoline, Unilever, Citibank, Pfizer, AstraZeneca, Sterlite, Fullerton, Geojit and other large enterprises.
For more information,please visit: http://www.orangescape.com