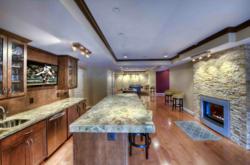 we've gotten tremendous positive feedback from the growing Houzz community
Reston, VA (PRWEB) March 22, 2012
Synergy Design & Construction, Inc. (dba Synergy D&C) of Reston, Virginia has been awarded "Best Of Remodeling" 2012 by Houzz, the leading online platform for residential remodeling and design inspiration. The 3-year old woman-owned design/build firm was chosen from among hundreds of architecture, design, and construction firms represented on the site by the registered members of the Houzz community.
Houzz's 2012 "Best Of Remodeling" award for Design placed Synergy D&C on the list of distinguished design/build firms in the DC-area. The award was given to professionals whose work was most popular among the 1.2 million members, known as "Houzzers," who saved more than 16.5 million professional images to their personal ideabooks via the Houzz site and iPad/iPhone app.
"We are thrilled to be honored with this award, picked by the users of Houzz themselves, who are always scouring the internet for images to inspire their own renovations and create that 'Wow!' factor, said Mina Fies, President and CEO of Synergy D&C. "Even before the award, we've gotten tremendous positive feedback from the growing Houzz community, who are constantly commenting and saving our images, and asking engaging questions."
"With 3.5 million monthly unique users and 80 million monthly page views, Houzz has rapidly become the largest community of active remodelers, providing homeowners and design enthusiasts with first-hand advice from Houzzers who have been through the renovating and decorating process," said Liza Hausman, vice president of marketing for Houzz. "This is a real stamp of approval for Synergy D&C from the Houzz community and we're thrilled to welcome them to this elite group of 'Best Of' winners."
About Synergy Design & Construction, Inc.
Synergy D&C is an award-winning, Class A General Contractor serving Virginia, Maryland, and the District of Columbia. Their mission is to provide outstanding renovation experiences by using their proprietary Renovation Roadmap™ system, which helps clients understand the design, plan for the exact costs, timelines, and schedules. Synergy D&C launched at the height of the recession in 2008 and has won several Master Design and Contractor of the Year awards and been featured on HGTV's "Bang for your Buck."
About Houzz
Houzz (http://www.houzz.com) is the leading online platform for home remodeling, providing inspiration, information, advice and support for homeowners and home improvement professionals through its website and mobile applications. Houzz features the largest residential design database in the world, articles written by design experts, product recommendations, a vibrant community powered by social tools, and information on more than 1.2 million remodeling and design professionals worldwide who can help turn ideas into reality.