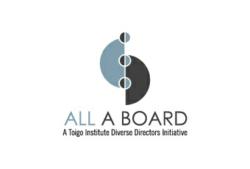 The receipt of the Kellogg Foundation grant underscores the critical importance of bringing more voices and more diverse leadership to the highest leadership ranks—and affirms Toigo's participation in driving this change.
Oakland, CA. (PRWEB) March 26, 2012
The Toigo Foundation announced today the award of a $100,000 grant from the W.K. Kellogg Foundation in support of its All A Board initiative focused on increasing board diversity in corporations and non-profit organizations.
"Toigo's All A Board initiative focuses on increasing the pipeline of diverse talent available for board service with corporations and non-profit organizations. The receipt of the Kellogg Foundation grant underscores the critical importance of bringing more voices and more diverse leadership to the highest leadership ranks—and affirms Toigo's participation in driving this change," said Nancy Sims, president of the Toigo Foundation. "By infusing the board room with greater diversity—including leaders with diverse cultural heritage, differing experiences and points of view—we believe organizations achieve greater governance, better serve all stakeholders and deliver greater value today and for future generations."
Institutional and individual shareholders alike have become vocal proponents of board diversity. Recent studies have tied board diversity and the presence of women on boards as direct drivers of organizational strength, including higher profitability and growth.
"Toigo's grant award is a testament to the effective way in which the organization has championed diversity as a value-added proposition in the financial services industry," stated Denise L. Nappier, Connecticut State Treasurer and Vice Chair of the Toigo Board. "With the globalization of our economy, coupled with rapidly changing demographics, diversity is a necessity for businesses focused on future growth and success, and for long-term investors and key stakeholders interested in shareholder value and the well-being of society. This is the principle that has driven the performance of Toigo's work. I am delighted that the same principle will drive Toigo's All A Board initiative by providing ready access to the broadest pool of diverse talent. Let it no longer be said that there is a dearth of qualified women and minorities for board service—there are, and they can be found on All A Board."
The centerpiece of the Toigo All A Board initiative is an online clearinghouse that allows board candidates to create robust profiles and for organizations seeking boards to easily search and find possible board members. Creating a profile is fast, easy and engaging; candidates can even create a video "pitch" to provide a live testimonial of their qualifications and interest in board service. In addition to the online clearinghouse, Toigo's All A Board initiative includes an education platform and thought leadership. Organizations can search the All A Board pipeline of prospective board candidates currently for no fee. Those that utilize the platform are encouraged to support Toigo and the ongoing success of the platform with a financial contribution. In addition to the Kellogg grant, the Toigo Foundation is also seeking additional grants and corporate underwriting to support its board leadership efforts. By mid-year, a fee for corporate board searches will be implemented as a way to fund the ongoing development and deployment of the platform. Toigo is committed to providing non-profits and foundations with open access to the platform.
All A Board is a natural extension of Toigo's 20-year mission to promote leadership development and advancement of minority professionals within finance. Members of its network of nearly 1,000 minority MBA graduates are among those featured in the clearinghouse. Toigo launched the All A Board candidate clearinghouse in 2011; the Kellogg Foundation grant will provide added resources for expanding the technology platform. The Kellogg Foundation grant period is March 2012 through February 2014.
About the W.K. Kellogg Foundation
The W.K. Kellogg Foundation, established in 1930, supports children, families and communities as they strengthen and create conditions that propel vulnerable children to achieve success as individuals and as contributors to the larger community and society. Grants are concentrated in the United States, Latin America and the Caribbean, and southern Africa.
About the Toigo Foundation
Committed to changing the face of finance, the Robert Toigo Foundation inspires and supports minority MBAs as they earn their graduate degrees and pursue successful careers in the field of finance. The Toigo Alumni and Fellow network includes nearly 1,000 minority MBAs working in all sectors and all levels of leadership in finance. Toigo is the only non-profit initiative dedicated to the leadership development of pre-, current and post-MBA graduates working within the field of finance.
All A Board is a board diversity initiative of the Toigo Institute for Leadership Excellence, Advancement and Diversity (I-LEAD). Launched in 2010, the Toigo Institute leverages the Toigo Foundation's 20+ years of experience within the finance industry in developing and supporting minority MBA talent to serve a broader multicultural community of professionals working in finance and beyond. The Toigo Institute's initiatives and events are focused on leadership advancement of underrepresented professionals, including women and minorities.
# # #