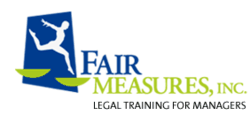 Santa Cruz, CA (PRWEB) March 28, 2012
HR professionals, managers and supervisors need to know what is FMLA and how it applies to their employees for certain life situations. A recent appeals court ruling found supervisors may be held individually liable for violating the Family Medical Leave Act (FMLA). Fair Measures provides FMLA training so businesses can comply with the Family Medical Leave Act.
Fair Measures is a management training company that teaches managers and supervisors how to comply with employment law offers Family Medical Leave Act (FMLA) education in their Managing Within the Law II course. Attendees learn the specific situations and conditions that require FMLA execution, as well as specific state laws governing family leave.
Fair Measures provides training on a variety of management and supervisor challenges, such as harassment, discrimination, disability law and wrongful termination. Recently, Fair Measures has expanded its' employment law reference section to include information specifically on the FMLA. Leaves and accommodations are complicated and managers need to understand this important aspect of managing to avoid complaints and lawsuits.
Recently, the U.S. 3rd Circuit Court of Appeals ruled for the first time that a private company supervisor may be found liable for violating the FMLA. Since many managers and supervisors may not have professional liability insurance, this could have an impact on them personally.
Persons who are interested in getting trained by Fair Measures can be located anywhere in the United States, since Fair Measures will train personnel at the requestor's location.
Fair Measures offers its' training for managers and supervisors through regularly scheduled classes. Companies that wish to schedule private corporate training may contact Jo-Ann Birch, the owner of Fair Measures.
Attendees may receive training either face to face via Fair Measure's attorney trainers; through their scheduled webinars; or by purchasing Fair Measure's with policies and checklists.
Fair Measures offers Family Medical Leave Act information because companies and businesses are facing costly lawsuits that could be avoided through education and training for supervisors and managers to better understand employees' rights under U.S. labor laws. By getting trained to recognize situations and circumstances where employment law is in effect, litigation can be reduced or avoided. In addition, supervisors personally benefit from understanding how to properly apply FMLA due to the recent 3rd Circuit Court of Appeals ruling that determined they may be held personally liable for violations.
Participants will learn about all these different Leaves of Absence and Accommodation:
1. Prevent and respond to workplace injuries
2. Workers compensation procedures
3. Family Medical Leave and Pregnancy Disability Acts
4. Organization's LOA policy
5. Americans with Disabilities Act
Executives, managers and supervisors who want to foster a positive work environment that is more like a community where employees are motivated to work in a respectful work space where employee retention is high will benefit from [scheduling training from Fair Measure's attorney trainers and experts. They stay current with employment law changes and update all course materials so companies can comply with the full knowledge of what is required.
About Fair Measures: Founded in 1982, the company provides manager and employee training on workplace issues to foster a respectful workplace and community and compliance with human resource and labor laws. Fair Measures provides training via classroom, webinars and e-materials.