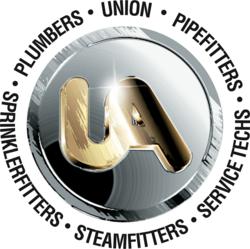 "...Today, I'm directing my Administration to cut through the red tape, break through the bureaucratic hurdles, and make this project a priority, to go ahead and get it done."
Annapolis, MD (PRWEB) March 23, 2012
United Association of Plumbers, Pipefitters and Sprinklerfitters General President Bill Hite strongly praised President Barack Obama's decision to expedite the Cushing, OK to Port Arthur, TX portion of the Keystone XL pipeline. The President was in Cushing on March 22, part of a whistle-stop tour of the Southwest to roll out his national energy policy.
In his remarks to a crowd that included two UA members, Local 344 Business Manager Darren Jones and Southwest Pipe Trades Lead Organizer Chris Ingram, President Obama stated:
"Right now, a company called TransCanada has applied to build a new pipeline to speed more oil from Cushing to state-of-the-art refineries down on the Gulf Coast. And today, I'm directing my Administration to cut through the red tape, break through the bureaucratic hurdles, and make this project a priority, to go ahead and get it done."
Prior to the event in Cushing, The White House issued a statement, stating in part:
"As part of [the] effort to develop American infrastructure, the President will issue a specific Memorandum in Cushing directing federal agencies to expedite the Cushing Pipeline and other pipelines that relieve bottlenecks as the top priority of the new EO's permitting process. The need for pipeline infrastructure is urgent because rising American oil production is outpacing the capacity of pipelines to deliver oil to refineries. Expanding and modernizing our nation's crude oil and refined products pipeline infrastructure is a vital part of a sustained strategy to continue to reduce our reliance on foreign oil and enhance our nation's energy security."
General President Hite praised the President for his comprehensive approach to the development of a substantive and realistic national energy policy that includes not only pipeline repair and construction, but also nuclear, solar and other forms of energy as well.
"The Keystone XL pipeline project is essential to our national security, and I am pleased that the President is expediting the Cushing portion of the line. I also want to offer my support of the President's thoughtful approach to securing our nation's energy future," said General President Hite.
The decision to expedite the Cushing portion of Keystone is part of an Executive Order "which will require agencies to make faster permitting and review decisions for vital infrastructure projects while protecting the health and vitality of local communities and the environment," according to the White House. In an Executive Order issued by the President, he directed his departments to expedite the approval process, stating:
"The need for infrastructure is particularly important right now. Because of advances in drilling technology that allow us to tap new oil deposits, we are producing more oil from unconventional sources—places like the Eagle Ford Shale in South Texas, where production grew by more than 200 percent last year, or the Bakken formation of North Dakota and Montana, where output has increased tenfold in the last five years alone. In States like North Dakota, Montana, and Colorado, rising production is outpacing the capacity of pipelines to deliver the oil to refineries. Cushing, Oklahoma, is a prime example. There, in part due to rising domestic production, more oil is flowing in than can flow out, creating a bottleneck that is dampening incentives for new production while restricting oil from reaching state-of-the-art refineries on the Gulf Coast. Moving forward on a pipeline from Cushing to Port Arthur, Texas, could create jobs, promote American energy production, and ultimately benefit consumers."
General President Hite, who has worked hard to promote Keystone, stated that "this is the first step in what I believe will be the ultimate success of the Keystone project. I'm proud of this President for having the courage to take this stand."