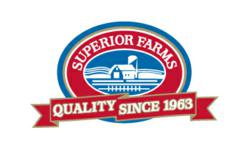 Davis, CA (PRWEB) March 26, 2012
With Easter and Passover holiday gatherings comes the traditional staple of a ham dinner. Rather than sticking with an old standby, lamb producer Superior Farms encourages shoppers to branch out and make a festive meal with lamb this holiday. With nearly 20% of U.S. lamb consumption taking place during the spring, Superior Farms offers simple tips on how to select and prepare a perfect lamb roast or delicious rack of lamb.
Lamb is always readily available but is particularly popular among consumers during this time because a tender, juicy leg or rack of lamb is ideal for a special occasion. According to Superior Farms, American legs of lamb are easy to find year-round and simple to prepare. Lamb can be roasted, broiled or grilled and blends well with a variety of flavors and spices.
"Lamb is often found on menus in upscale restaurants across the U.S., so consumers usually think it's too difficult for them to prepare," said Tina Roberts, Culinary Business Development at Superior Farms. "Actually, lamb is easy to prepare and is a great alternative to more commonly selected meat for holiday meals."
Superior Farms recommends roasting a leg of lamb for the easiest preparation for Easter dinner. There are four different leg cuts: A whole leg of lamb can be roasted for a large crowd and used on buffet tables, while a short cut leg is great for roasting or grilling for a smaller gathering. Superior Farms also offers a boneless leg roast, which is delicious when stuffed with a flavorful filling. Finally, a boneless sirloin roast or top round is the best option for a small, tender roast to serve a family.
Regardless of the size of leg, imply make slits throughout the leg and insert garlic cloves. Then rub with olive oil, salt and pepper, and roast at 325 degrees for approximately 20-25 minutes per pound.
If an easy dinner for two is in order, a grilled rack of lamb is a great way to go. This rack of lamb with fresh lemon and herbs is delicious and fitting for a small dinner table.
Additional cooking and serving tips:

Use a meat thermometer to help determine when lamb is done
Allow the lamb roast to rest for 20 minutes before serving – This will increase the internal temperature of the lamb by 10 degrees, so be sure to remove the leg a bit early to reach the desired degree of doneness
o Rare: 135 degrees Fahrenheit
o Medium Rare: 145 degrees Fahrenheit
o Medium: 160 degrees Fahrenheit

Pair with a glass of wine that will complement, contrast or match the flavors of the lamb
Just like Thanksgiving, Easter Lamb makes great sandwich leftovers
For something more complex, the American Lamb Board has a recipe for Roasted Leg of American Lamb with Marinated Tomatoes and Herb Bread Crumbs. This recipe brings together savory flavors from herbs and garlic with the sweet juiciness of marinated tomatoes. The crunch from the bread crumbs is the perfect complement to the juicy, succulent lamb.
For more information or additional recipes and serving suggestions, visit http://www.SuperiorFarms.com. You can also find Superior Farms on Facebook and Twitter.
About Superior Farms
Since 1963, Superior Farms has provided the freshest and most wholesome lamb and veal products available. With six manufacturing and distribution centers located across the country, Superior is committed to offering cutting edge packaging and product solutions to their retail and foodservice customers. Superior Farms is an employee-owned company with its corporate office located in Davis, California. Find us on Facebook and watch our ranchers on Youtube.
# # #