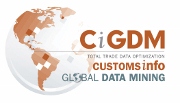 Comply with me, comply, let's do it right. You need companies with expertise
To help you with your plight. Comply with me, comply and sleep all night
Atlanta, GA (PRWEB) March 26, 2012
CUSTOMS Info (Ci), Global Data Mining (GDM) and MK Data Services, providers of trade data management services, awarded one lucky ICPA member an all expenses paid trip to the 2013 International Trade Compliance Professionals Association (ICPA) Conference in Honolulu, Hawaii.
When: Wednesday, March 23, 2012
Where: ICPA 2012 in Atlanta Georgia
Who: Phil Yewlett from Metal Tek International
What: Phil submitted a video entry entitled "Comply With Me" which featured humorous lyrics about customs compliance set to the tune of Frank Sinatra's "Come Fly With Me". It was selected out of many entries to be awarded with a free trip to ICPA 2013 in Honolulu, HI.
Quote: "Comply with me, comply, let's do it right
You need companies with expertise
To help you with your plight
Comply with me , comply and sleep all night" - Phil Yewlett.
About CiGDM:
CUSTOMS Info (Ci) and its sister company Global Data Mining (GDM) help businesses optimize global trade management (GTM) systems and streamline global trade automation. Ci provides the world's most comprehensive trade data repository delivered via web-based subscription, API web services or as data to populate any GTM or Landed Cost application. Ci is the largest provider of duty and tax content for international e-commerce with hundreds of e-commerce sites utilizing our data to provide accurate landed cost information. Our data and services provide faster deliveries and fewer border delays. GDM helps multi-national companies increase the informational value of trade data and the productivity of global trade staff to reduce operating costs, improve customs compliance, accelerate supply chain speed and maximize the return on investment of this corporate function. Areas of expertise include customs classification research, customs auditing and trade data analytics/business intelligence.
Working in conjunction with GTM applications, Global Data Mining and CUSTOMS Info's strategic partners include SAP, Oracle, and other trade software partners. Please visit http://www.customsinfo.com , http://www.gdmllc.com for more information.
About MK Data Services:
Over the past twenty years MK Data Services has become one of the worldwide leaders in trade compliance Services and compliance data solutions. The company provides best-in-class technology-focused solutions, world-class customer service and is dedicated to providing unparalleled quality of service. Visit the company on Twitter @mkdenial, Facebook page MK Data Services, or http://www.mkdataservices.com.