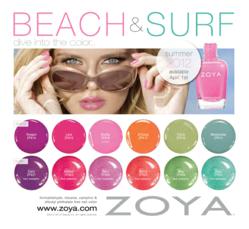 Zoya Beach & Surf: Summer Nail Polish to dive into right now!
Cleveland, OH (PRWEB) March 26, 2012
Exciting new nail polish color for summer 2012.
Zoya Beach & Surf Collections
...make a splash!
Summer 2012 is going to be a super stylish season for nails with the latest offering from the new color of fashion, Zoya! This new splash of color, designed by the Zoya color experts, is kissed by sea and sand translating beautifully onto the nail in the famous, full-coverage Zoya formula.
Dive into the creamy shades of the Zoya Beach collection or the shimmering sea foils of the Zoya Surf Collection. The choice is yours – this color palette is sure to be a splash!
Zoya BEACH Collection
Reagan (ZP614) - deep cerise pink cream
Lara (ZP615) - vivid cerise pink cream
Shelby (ZP616) - soft pinky pink cream
Arizona (ZP617) - soft coral orange cream
Tracie (ZP618) - sea grass metallic
Wednesday (ZP619) - soft aqua cream
Zoya SURF Collection
Rory (ZP620) - lotus pink foil metallic
Carly (ZP621) - thalia purple foil metallic
Kimber (ZP622) - magenta pink foil metallic
Myrta (ZP623) - coral orange foil metallic
Meg (ZP624) - mermaid green foil metallic
Zuza (ZP625) - aquamarine foil metallic
Zoya is the new color of Fashion!
The Zoya BEACH & SURF collection was designed and inspired by resort runways and tropical get-a-ways.
Ultra long-wearing, glossy nail lacquers by Zoya are free of harmful industrial chemicals like toluene, camphor, formaldehyde, resin, dibutyl phthalate (DBP) that are known to cause cancer and birth defects.
Find Zoya BEACH & SURF as well as over 300 other ultra high-fashion Zoya shades at http://www.zoya.com. As always, each and every Zoya color is made for women so we name them after women.
Zoya Beach & Surf Collections - available NOW on Zoya.com.
Sug. Retail $8.00 per 0.5 fl.oz. bottle (US)