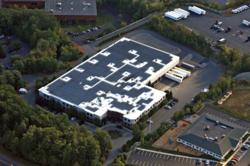 Going solar is one of the best business decisions we've made in our 20-year history.
Milford, MA (PRWEB) March 26, 2012
Clarke, New England's exclusive distributor of Sub-Zero, Wolf and Asko appliances, is hosting a Solar Experts Roundtable presented by Beaumont Solar Company on Wednesday, April 4 from 5:30-7:30PM at the award-winning Clarke showroom in Milford, MA. The host site, a totally solar-powered 106,500-square-foot distribution, showroom and warehouse facility is one of the largest rooftop solar projects ever installed in Massachusetts. The project, which was designed and installed by Beaumont Solar Company in 2011, provides a stunning example of how solar power is changing the face and bottom line of New England businesses.
"We are thrilled to have Phil Cavallo's team from Beaumont Solar create this great evening here," said Clarke General Manager Sean Clarke. "We achieved a decade-long dream of going Net Zero electrical energy last summer and want to share this information with businesses throughout the region. This is one of the best business decisions we've made in our 20-year history."
Solar experts for the evening will include the director of product and program development with ConEdison Solutions, Beaumont Solar Company President and CEO Phil Cavallo, a senior tax accountant in commercial services from Clifton Larson Allen LLP, the founder of Walden Renewables and the owner of Luke's Super Liquors in Yarmouth, MA, who installed a 183kW roof PV system for his business with Beaumont Solar Company.
Sean Clarke and Clarke Director of Finance and IT Chris Parker will also be available to answer questions about their process researching solar energy in Massachusetts and the decision to install the 2,304 200-watt solar panels to power the Clarke complex. "We know what we went through to research the feasibility of solar power for our facility," said Clarke. "We know this event will help entrepreneurs and business leaders efficiently get the facts that it took us many months of trial and error to discover."
According to Cavallo, Massachusetts is one of the hottest solar markets in the U.S. and this is the perfect forum for business people from every industry to learn from and dialogue with the solar experts in New England to understand the ROI for solar in Massachusetts and Rhode Island.
Based on Beaumont's first Solar Expert Roundtable event held last summer at the Fairfield Inn in New Bedford, MA, it is expected that company owners, CEOs and presidents, finance executives and other business leaders interested in learning about the ROI of solar energy projects, will all be represented at this one-night event.
There is no charge to attend The Solar Expert Roundtable, however reservations are required for this limited-space event. For more information on The Solar Expert Roundtable at Clarke, please call Marlene Arruda at 508-990-1701, Ext 201 or visit http://events.r20.constantcontact.com/register/event?oeidk=a07e5oe6bm0fc44ce07&llr=bq5i4leab
About Clarke
This award-winning distributor of appliances from Sub-Zero, Wolf and several other high-performance brands, operates expansive kitchen showroom resource centers in Milford, MA and South Norwalk, CT, where homeowners can learn about and experience these appliances in dramatic kitchen vignettes, without any pressure to purchase. Clarke distributes these brands through an exclusive network of retail appliance dealers throughout New England. Clarke also offers Clarke Customer Care, a dedicated repair service for their brands, that has earned them "Best in the US" satisfaction survey results. The company also runs The Clarke Culinary Center inside their showrooms to offer cooking classes taught by New England's finest chefs. For more information, visit http://www.clarkecorp.com.
About Beaumont Solar Co.
As one of the largest commercial solar engineering, procurement and construction companies (EPCs) based in Massachusetts, Beaumont Solar specializes in landfills, ground arrays, large commercial rooftops and carports throughout New England. Beaumont is vertically integrated with in-house design, engineering and system implementation capabilities within one company. Beaumont Solar projects have resulted in a variety of businesses reaching Net Zero electrical energy, saving millions of dollars in energy and significantly reducing carbon emissions in the region. For more information, visit http://www.beaumontsolarco.com