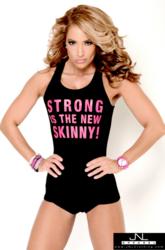 Leader, Innovator and Game Changer Jennifer Nicole Lee's Fitness Model Factory Los Angeles Event is Sold Out in Record Time
Miami, Florida (PRWEB) March 25, 2012
Jennifer Nicole Lee is the sexy CEO and President of the Fitness Model Factory. The Fitness Model Factory is JNL's brain child of what she needed to create in the fitness and wellness, beauty glamour industry. It's a full production house providing consulting, insight, and many resources from videography, campaigns, coaching and also the baseline photography needed for promotional uses.
Jennifer Nicole Lee opened up her Miami based Fitness Model Factory last year, in March, with a major grand opening on April the 16th 2012. When asked what the future is for her Fitness Model Factory Production house, JNL stated "JNL Worldwide, Inc has now joined forces with some of the biggest names, brands and labels due to the fact that I opened the Fitness Model Factory Production studio. Im proud to say that my FMF (Fitness Model Factory for short) is now an iconic legendary destination spot that is so hot, many travel over 30 hours by plane to enjoy the experience of working with my team and creating life long memories, media, photos and videos that will give them joy the rest of their lives."
Next up is her big celebration in April the 22 in Los Angeles, with the event co-hosted by Marina Aleksintser who is a JNL Fusion Master trainer and also the world's first ever FMF West Coast Winner to her 2011 casting call and the . "Marina is a leader and a true creative force to be reckoned with, as she constantly has super potent ideas, and also not to forget to mention just how photogenic, gorgeous, strong, charming, and fearless she is. To know that she is a mom and a wife, just like me, yet has an unquenchable thirst for creating, challenging fashion, and also entrepreneurial ship, it's now wonder why we are very close and extremely good business partners."
Also at this mega one day event is JNL's business partner Mr. Claude Taylor. JNL has coined him as "Mr. Big", who is a master photographer with the most upright work ethic, who proudly states "daily I pound my craft to be the best out there, second to none." Jennifer Nicole Lee and Mr. Big have worked on numerous productions together at her Fitness Model Factory, which again is the creative house of many of their campaigns for contracts presented to their company.
One thing is for sure, with over 50 magazine covers, and her 3rd book out entitled The Fun Fit Foodie Cookbook, and her 4th book in the works called "Beyond the Bikini", and her JNL Fusion exercise 12 DVD set soon to launch at http://www.JNLFusion.com, Team JNL shows no signs of slowing down.
For more, visit http://www.JenniferNicoleLee.com and http://www.FitnessModelFactory.com.