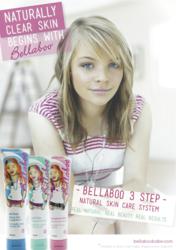 Bellaboo was selected as part of ULTA Beauty's new assortment for younger customers because of its all-natural approach and expert understanding and immersion with its tween/teen audience.
(PRWEB) March 27, 2012
The US $5 billion tween/teen skin care category is booming, as girls start their skin care journey as young as eight years of age. And, the natural choice for girls and their mom's is natural skin care. There is a strong awareness that for young skin, skin care based on plants and flowers versus harsh chemicals is the better choice.
"It is important to ULTA Beauty that we offer appropriate choices for all of our beauty enthusiasts, regardless of age," says ULTA Senior Vice President of Merchandising, Janet Taake. "Bellaboo was selected as part of ULTA Beauty's new assortment for younger customers because of its all-natural approach and expert understanding and immersion with its tween/teen audience."
Bellaboo President, Snezna Kerekovic says, "For me, personally, on my very first retail recon in the US, I walked into an Ulta Beauty store and thought this is "home". It is a beautiful beauty destination where our demographic shops. To be launching nationally in this space is perfect."
Bellaboo, created by Snezna, an ex-beauty editor and beauty publicist, is a simple all natural skin care system for that girl starting her skin care journey; that teen girl in the midst of puberty-related skin issues; and that College girl, not yet ready for heavy duty anti-aging skin care.
Bellaboo's natural ingredients work to help balance and normalize skin…regardless of whether skin is oily, dry, combination or experiencing acne.
This is why Bellaboo is a skin care system that works for all skin types and ages. Whether you are an 8-year-old or in your late teens or twenties, the active and proven natural ingredients work to harmonize and balance skin so that it is healthy and flawless.
Purposefully simple, there are 3 steps, each numbered, for her daily regimen.
1. All That Clean Skin Facial Wash;
2. Buff Skin Facial Exfoliator; and
3. Gorgeous Skin Moisture Dew.
As well as its basic skin care system; Bellaboo has a number of treatment products specifically targeting the problems of that tween/teen skin.
E Z Blitz Serum is a natural anti-pimple serum that draws from nature's pimple fighters, rather than harsh chemicals, to normalize and balance skin versus simply drying the pimple out. Girls swear that pimples are cleared up within 2-3 days minus the skin irritation they experience with Benzoyl or Salicylic Acid-based creams.
Bellaboo's treatment masks are fun with serious skin benefits, and come in three delicious and skin-loving flavors:
Sweet Sin Chocolate Face Mask,
Berry Nice Face Fix, and
Clear Skin Smoothie Mask.
Beyond the skin care line, Bellaboo has created a complete brand experience for its demographic that allows it to connect 24/7. Bellaboo understands that today's youth engage with brands that get them and rally their causes.
Bellaboo has it's own online magazine – http://www.bellaboobabe.com – covering everything that is going on in her life. It is 100% teen-centric – written by a teen editorial team for teens!
Bellaboobabe Chatterchicks are the brand's ambassadors and teen team of social networkers who spread the Bellaboo word online and provide teen insights daily.
BBTV is Bellaboo's own TV segment produced monthly by its 14-year-old producer.
And, Snezna's own personal mission around helping boost girls' self esteem is a pivotal part of Bellaboo. Bellaboo's Make the Change program is all about helping girls with the massive issues around self-esteem. The program currently is online with plans to create a Foundation that will work to create innovative self-esteem programs.
Bellaboo is on a mission to make girls feel good about themselves inside and out.
Bellaboo will be available at all 449 ULTA Beauty stores in 43 states as well as online at http://www.ulta.com May 2012.