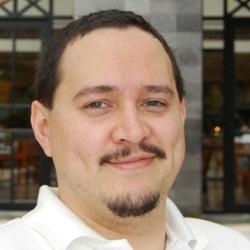 Mens-Wedding-Rings.com is pleased to be working with Jeff Soukotta of Adaptise.com, who brings a considerable amount of SEO expertise and innovative thinking to the MWR team.
Jensen Beach, FL (PRWEB) March 28, 2012
Mens-Wedding-Rings.com (MWR) is pleased to announce the addition of Jeff Soukotta of Adaptise.com to assist with its search engine optimization (SEO) efforts. Based in Toronto, Canada, Mr. Soukotta's vast expertise and unique personalized approach to search engine marketing and optimization are a perfect fit for this ever-growing online retailer of men's wedding rings.
"Jeff and his team at Adaptise.com joined our team in November of 2011 and have already made a huge difference in increasing conversions and growing our sales by over 300%," says Men-Wedding-Rings.com president and owner Roy Devine. "His attention to detail and analytics is impressive, as is his follow-up, availability and commitment to going above and beyond to make our business the number one men's wedding rings site on the internet. We now have over 30 important keywords on page 1 of Google, many of which are high competition."
Unlike many other online marketing and SEO firms, Adaptise brings an individual and humanized approach to the table. Mr. Soukotta believes that SEO is more than just bringing content to the attention of the search bots – it must also appeal to the human beings reading it. Jeff Soukotta's philosophy is evident in the Adaptise name: he and his team help companies "adapt" to and make the most of the online market, increasing their web presence, conversions and sales in a way that is most beneficial to their core business and branding. Mr. Soukotta personally trains each member of his staff to ensure that they are well-versed in the most current and correct SEO information, and that Adaptise's high standards are maintained.
Jeff Soukotta's passion for technology and the internet stems from a very unusual childhood growing up in a remote and mountainous region of Java, Indonesia. Roving tigers were an active concern, and Mr. Soukotta and his family lived with nearly daily blackouts, a crank telephone and a single channel television. Despite these technologically challenged beginnings, Soukotta was already building websites during the mainstream infancy of the internet in 1996. Having worked directly in SEO since 2006, Mr. Soukotta applies his inherent fascination with technology to continue to raise Adaptise's bar for excellence and put his clients on the first page of Google.
Under Mr. Soukotta, Adaptise has grown rapidly from a one-man operation to seven employees in just its first year of business, and is projected to grow even more by the end of 2012. While the primary business is search engine optimization, Adaptise offers a full spectrum of online marketing and development services, including site building, conversion optimization and social media marketing (SMM). In addition to its Toronto headquarters, Adaptise has a branch office in Japan to better serve its international clientele, with client companies spanning from the United States to Japan to Australia.
In conjunction with Mr. Soukotta, Mens-Wedding-Rings.com will continue to expand its available collections of men's wedding rings and bands in a variety of materials, styles, and sizes, all at some of the most affordable and competitive prices online. "Adaptise is looking forward to propelling Men's Wedding Rings even further into the online retail market," comments Mr. Soukotta. "Roy and Judy have built an amazing team, and it's very exciting to become a part of it and help Mens-Wedding-Rings.com realize its full potential."
About Men's-Wedding-Rings.com
Mens-Wedding-Rings.com is a niche online jewelry store for men's wedding rings and bands. Customers can find the best quality men's traditional and alternative wedding rings in this specialized retail environment. From major designer bands in traditional and alternative metals to non-designer rings in stainless steel, titanium, tungsten, sterling silver and cobalt, Mens-Wedding-Rings.com is a one-stop source for men's wedding bands and rings. Owners Roy and Judy Devine make it their goal to ensure their customers are completely satisfied, selling only high quality rings at excellent prices. MWR customers enjoy free shipping and a 30 day money back guarantee, and have come to expect the highest standards of service, selection and quality when they shop at Mens-Wedding-Rings.com. MWR offers the best selection of men's wedding rings on the Internet, many of which are available through size 20.
For more information on MWR, please visit Mens-Wedding-Rings.com.
For further information, please contact:
Roy & Judy Devine, Owners
800-676-0363
roy(at)mens-wedding-rings(dot)com