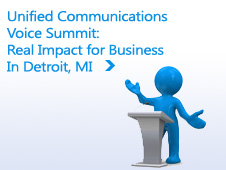 Learn how SIP Trunks can offer significant cost-savings for enterprises.
Detroit, Michigan (PRWEB) March 27, 2012
Microsoft® Lync® Server 2010 converges an organization's communications channels to create a rich, interactive environment that unifies enterprise voice, presence, instant messaging, and multimedia conferencing into a new, more connected experience.
Visitors can sign up for a day packed with integration tips, solutions, and an opportunity to meet with award winning design engineers.
Event Date and Schedule:
April 5, 2012 | 09:00 AM - 04:00 PM
Welcome Time: 08:30 AM | Time Zone: Eastern
Event Language: English (United States)
Featured Products/Topics: Microsoft Unified Communications, Microsoft Lync Server 2010
Recommended Audiences: Technology Executives, IT Managers, IT Professionals, CTO, IT Directors.
9am - 10:30am: What Can Lync Do For You?
Please join Microsoft and The Via Group for an interactive session on Lync Unified Communications, and how it best serves people and business. This will be a technical discussion of challenges, solutions, and opportunities for voice integration with Lync.
11am - 12pm: Demystifying SIP
Level 3 will discuss the network component of the total Unified Communications solution, specifically how issues such as E911 on the Microsoft Lync platform are handled by next generation networks. Level 3 will also discuss real life examples of the challenges faced by mid to large size customers in migrating legacy TDM environments to their SIP platform and the best practices they have developed to ensure transitions can happen with minimal impact on the end users.
1pm - 2pm: Proper Software Agreements are Critical
SoftwareOne will clarify any confusion around multiple software licensing programs, licensing implications with solutions such as virtualization and cloud.
2:15pm - 4pm: Live Lync Demo
The Via Group will demo the Lync client and its features and benefits. It helps participants realize the complete value and possibility of these powerful collaboration solutions and how they can be leveraged to improve business productivity in their own organization.
About The Via Group:
The Via Group is a globally recognized leader in providing Professional Services supporting Unified Communication solutions. As a leading solution provider and Gold Certified Partner for Microsoft, Via is a premier provider of communications solutions that span the full range of new and established technologies, including Voice, Video, Instant Messaging, Presence, Voice Messaging, Conference and Collaboration, and bringing them together into multi-vendor solutions.
The Via Group takes pride in offering business solutions based on a foundation of IT and Voice experience, technical expertise and solid project management practices. Our Microsoft Certified Engineers, Trainers and Professionals focus on Unified Communications solutions while our Certified Voice Engineers focus on integrations to provide a complete UC solution. Services include Discovery, Consulting, Architecture Design, Deployment and Support in both the IT and Voice environments.
For more information please visit our website http://www.theviagroup.com