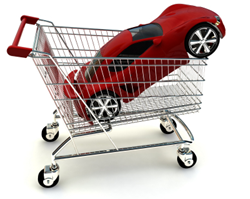 The biggest names in online vehicle sales support the use of Escrow.com
Rancho Santa Margarita, CA (PRWEB) March 28, 2012
When the BBB and the FBI take the time to warn the public about online vehicle sales fraud – isn't it time you listened?
On March 1, 2012, the Better Business Bureau (BBB) reported that in 2011 they received over 1.4 million inquiries about used car sales, 52,555 inquires about Auto & Truck Brokers, 37, 980 about Auto Auctions and just over 800,000 inquiries about Internet Auction Services and Internet Shopping. In August 2011, the FBI's Internet Crime Complaint Center (IC3) warned the public that online vehicle shoppers are being victimized by fraudulent vehicle sales. Both the FBI and the BBB have stated that criminals attempt to sell vehicles they do not own through attractive online deals advertising vehicles for sale at prices below book value. The sellers also purport that they need to sell the vehicle because they are moving for work or leaving the country due to a military deployment.
Today, nearly 37 million used cars are sold in the US each year with 11 percent of those sales done over the Internet. And, companies like Goldman Sachs predict online sales will continue to grow in all retail and resale categories. "Combine the growth in online auto sales with the FBI and BBB warning consumers about online vehicle fraud and we feel there is no better way to protect your transaction than by using Escrow.com" says Brandon Abbey, President and General Manager at Escrow.com. He adds, "With a BBB A+ rating and 12 years of secure transaction experience, we bring an extra level of trust to the transaction that no one else can provide. That's why the biggest names in online vehicle sales support the use of Escrow.com to manage the transaction and protect the interest of buyers and sellers."
"There are between 10 to 12 million vehicles sold by private parties which require the ability for the buyer and seller to safely and securely confirm the condition and marketability of the subject vehicle," said Larry Highbloom, president and CEO of VINtek, Inc., a Philadelphia based company that provides DMV services to lenders and consumers. "A growing portion of these purchases are moving to the Internet and the ability to obtain escrow and DMV services for an online purchase is becoming more critical to safely and securely conducting the transaction," Highbloom added. "VINtek is pleased to offer Escrow.com automotive escrow services to its consumer and lender client base." Highbloom concluded.
Keith Whann, "The Car Counselor" to the automotive industry, had this to say about Escrow.com's services, "There are a number of initiatives on the regulatory horizon that are answered by escrow.com. The application of service extends not only to the consumer-to-consumer market, but also the dealer-to-dealer and dealer-to-consumer market, particularly as transactions span greater distances and unfamiliar relationships."
Escrow.com's services are simple to use, economical, and designed to combat fraud and limit the exposure of both the buyer and the seller. The company continues to evolve and will soon be launching new services, "Fraudsters beware!" adds Brandon Abbey, "Look for us to launch additional services this year that will add yet another level of security for three-party transactions. In a world where Internet fraud costs victims millions of dollars annually, you can feel safe in putting your money in the custody of Escrow.com."
About Escrow.com
Headquartered in Rancho Santa Margarita, CA, Escrow.com, a privately held company, has pioneered the process of online escrow services. The Company, founded in 1999 by Fidelity National Financial, has established itself as the leading provider of secure business and consumer transaction management on the Internet. All escrow services offered on this Website are provided independently and exclusively by Internet Escrow Services(SM) (IES), one of the operating subsidiaries of Escrow.com. IES is fully licensed and accredited as an escrow company and is subject to compliance with all applicable nationwide escrow regulations.