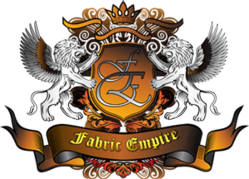 with 30 years of excellence!
Los Angeles, CA (PRWEB) March 30, 2012
Fabric Empire is a Los Angeles based company, considered one of the best sources of all households and businesses fabric and textile needs. The company has been in the industry for over 30 years, and are trusted to bring nothing but the best quality of textiles and fabrics that are both stylish and affordable. Fabric Empire's vision is to serve more households and businesses using E-Commerce, making the products more accessible to almost everyone and for this reason that http://www.fabricempire.com was conceived. Fabric Empire, great source for all your fabric needs!
The Fabric Empire offer a wide selection of fabrics from upholstery to drapery, decorative to oriental, tapestry to mohair and from vinyl to various leathers. The Empire invites everyone to browse our online store and take a glance of the countless products we offer that would give extraordinary accents be it for the living room, kitchen, office, bedroom or outdoor patio. Fabric Empire combines sophistication and affordability to bring you nothing but the best designs and themes in the market today.
If you can't find a product that you're looking for on the website you can either email the fabric empire or send them samples to match. Fabric Empire is not responsible for your swatch after you have mailed it to us if lost or can not be returned.
Here are a few categories worth looking at:
Vinyl is extremely durable and will hold up under almost any conditions. These fabrics can be made to be weather-resistant, so it's appropriate for use in both indoor & outdoor except Animal Print and 2 Tone .
Faux Fur Long Pile is A Pile Fabric Made To Simulate Animal Fur. May Be Woven Or Knit In A Variety Of Fibers Although Acrylic And Modacrylic Are Most Common. Artificial fur made from synthetic material.Plush fabric made of artificial fibers; also known as synthetic fur. Faux Fur is a synthetic polyester material that is commonly found in various animal prints. Similar to faux suede, it has a knap to the material with a soft, lush feeling.
Minky fabric is a plush, micro fiber fabric. It is incredibly soft and smooth to the touch. Minky fabric comes in all sorts of styles, colors and patterns. On there are nearly 400 varieties, from prints and patterns of licensed characters to simply raised, dotted styles. Minky fabric is used to construct blankets, typically for small children down to infant age. The texture provides comfort and a smooth surface to cuddle against or lie on. It's a preferred upholstery fabric for boat cushions, car interiors and patio furniture.
Upholstery Foam Polyethylene foam is widely used around the world in cushions, pillows, and beds. There are many different types of foam out there; they are all based on altered forms of plastic filled with micro bubbles. Most of the foams are used as upholstery.
Thanks For Looking!